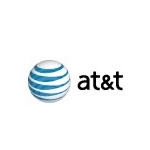 AT&T remains very active on the software defined networking (SDN) and network functions virtualization (NFV) fronts. And as an announcement Sunday about AT&T Network Functions on Demand illustrates, the company sees strong potential for the technology internationally.
AT&T Network Functions on Demand will let the company ship generic hardware to enterprise customers in any of 76 countries, and customers will download router, security or WAN acceleration functionality to the hardware over an LTE connection, explained Roman Pacewicz, AT&T senior vice president of offer management and service integration, in an interview.
"These four initial capabilities were what customers told us they wanted to deploy," said Pacewicz. "The way the model works is instead of shipping four appliances and dealing with four vendors, we ship network appliance x86 machines and [customers] choose the functions they want deployed."
Customers can choose either Cisco or Juniper router functionality. WAN acceleration technology comes from Riverbed, and security capabilities – such as firewall and intrusion detection – come from Fortinet.
Moving forward, "the library will keep growing," noted Pacewicz.
Behind AT&T Network Functions on Demand
"This is one of the first products we've launched globally and in the U.S. at the same time," added Pacewicz. "The software-centric network that we've migrated to enables us to instantiate services rather than having to deploy a lot of infrastructure all over the world."
Supporting AT&T Network Functions on Demand are four critical components, Pacewicz explained. These include AT&T Integrated Cloud (AIC) Zones; ECOMP; the generic hardware shipped to the customer, which Pacewicz referred to as "cloud in a box;" and the library of functions.
AT&T has 74 AIC Zones, Pacewicz noted. Each AIC Zone is essentially an Open Stack environment built on server blades sitting in an AT&T central office. The company plans to have 31 additional AIC Zones operational by the end of this year.
"The AIC Zones are mainly in the U.S. but some are outside and we have a pretty aggressive plan to expand even further outside the U.S.," explained Pacewicz.
ECOMP stands for "Enhanced Control, Orchestration, Management and Policy." It is the distributed software platform that provides the controller capability that is so critical to SDN, along with other functionality.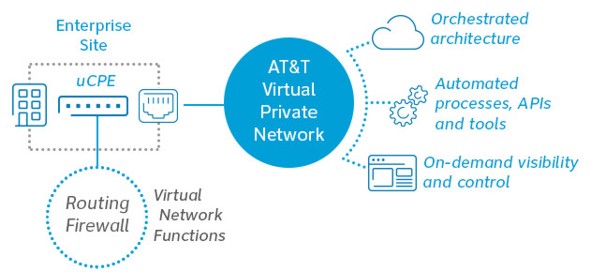 Just last week AT&T said it would release the ECOMP software platform into open source so that developers from other companies also could use it.
"One of the things we're trying to do is make sure what we're creating is not unique to AT&T but is open and that the industry leverages some of the work we've done," said Pacewicz.
Moving Forward
AT&T Network Functions on Demand enables enterprise customers to set up new locations in "at most a few weeks." In contrast, customers might require several months to set up new locations using a traditional approach, according to Pacewicz.
He added that "the customer can reconfigure the box dynamically – they can switch from Cisco to Juniper or add Riverbed" using the "pushed" software approach.
Future AT&T plans call for making some AT&T Network Functions on Demand available as cloud-based offerings and giving customers the ability to load functions onto the premises equipment for short time periods, Pacewicz added. He noted, for example, that customers might be able to temporarily obtain network probe functionality.