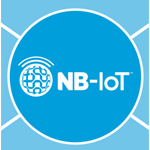 AT&T said yesterday that it has completed upgrades to its 4G LTE network to support NarrowBand Internet of Things (NB-IoT) connectivity. AT&T NB-IoT service is now available nationwide, the carrier said.
AT&T already is serving IoT with a LTE-M network, noted AT&T Senior Vice President for IoT Chris Penrose in a blog post. Thus, he wrote, the company now offers two low-power wide-area networks (LP-WANs) that support IoT options using licensed spectrum. The offerings provide carrier-grade security, he said.
He also noted that both IoT services allow devices to not be connected when they are not actively transmitting, which increases flexibility and reduces costs.
NB-IoT is aimed at stationary use cases that have basic data requirements such as simple sensors, on/off buttons, smart agriculture, smoke detectors, door locks and industrial monitors, according to Penrose.
In contrast, he said, "LTE-M, with its greater bandwidth, can support firmware and software updates, mobility and voice-over services. We've deployed pet trackers, asset management, medical wearables, utility meters and more over LTE-M."
The post says that both networks connect coming "out of the box" and don't have the complexity of setting up Wi-Fi or Bluetooth. Both reach into buildings and underground. Penrose's goal is to certify $5 modules that connect devices to NB-IoT. Another goal is multi-mode modules that support both NB-IoT and LTE-M. Pricing plans are now as low as $5 per year per device, he said.
Last June, AT&T said that it would launch the NB-IoT network early in 2019 in the United States.
AT&T is not the only carrier in the NB-IoT game, of course. Last July, T-Mobile launched its NB-IoT network nationwide. The company said at the time that it was the first such network in the United States.