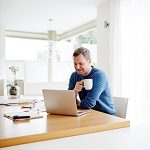 AT&T Business is introducing Home Office Connectivity in an effort to target the growing number of work from home (WFH) workers with the speeds and options previously limited primarily to traditional business settings.
Home Office Connectivity uses wireline and wireless infrastructure within AT&T's footprint to provision home offices with AT&T High Speed Internet for Enterprise and features and services including AT&T Internet Backup for failover, the Global Security Gateway and Static IP addressing. Home Office Connectivity is distinct from any AT&T residential broadband services in the home.
"Attitudes about working from home are changing, but the cultural shift is only part of the equation. Businesses need tools to succeed in the new environment," Mo Katibeh, the CMO and EVP for AT&T Business, said in a press release about AT&T Home Office Connectivity. "This new solution gives our customers and their employees an entirely new way of thinking about working from home. By expanding access to enterprise-grade connectivity to residential locations, we can essentially put the office anywhere."
AT&T Home Office Connectivity
Telework, which has been incrementally growing for years, has obvious benefits: A better work/life balance, less commuting – which reduces both wasted time and pollution — and corporate savings on real estate and equipment. The challenges tended to limit progress, however. They include the reluctance of employers to let workers out of their sight for extended periods, difficulties in creating true teams, security concerns about a workforce that will be working on older and less protected equipment and the simple reluctance to fundamentally change.
The pandemic likely is the spark that will drive much greater adoption. WFH has seen a big boom during the COVID-19 pandemic, and assuming productivity doesn't suffer, decision makers will see that the advantages of telework are substantial. They also will understand that a second spike in COVID-19 or other types of emergencies will have less impact on a business if telework is a mainstay.
Telework has the opportunity to grow because of potential benefits for all involved: Employees get to stay home and live further from corporate centers if they choose to do so; companies save money and are ready for future emergencies and the economy becomes more resilient to crisis and disruption. A key is upgrading infrastructure to enable work in the home to truly match what is possible at traditional offices.