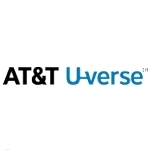 One voice that seems to be missing in all of the 3DTV hype these days is AT&T. DirecTV, Comcast, and even Verizon have been stirring up the 3DTV public relations pot, outlining future plans. But from my vantage point, I haven't heard much from AT&T.
They recently hosted a press/blogger event in Atlanta at their U-verse test lab to demonstrate a bunch of 'upcoming' features and capabilities for U-verse TV. Among the many things discussed was 3DTV. AT&T says they're ready for it. Light Reading quotes AT&T's point man on U-verse, Jeff Weber, as saying, "All of our set-tops are 3D-capable." All that is required is a software patch. Beyond that, they didn't go into any great detail about upcoming 3DTV plans.
One reason AT&T isn't exactly beating the 3DTV drum real loudly is of all the major video players, AT&T is probably the most challenged to deliver 3DTV. Their DSL delivered IPTV product has bandwidth limitations that don't exactly welcome mass adoption of 3DTV. If 3DTV takes off (which is very much still in question), will it force AT&T's hand to take fiber all the way to the home?