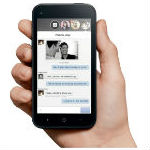 AT&T once again is hoping an exclusive device will give the company a competitive edge. In this case the device is the HTC First, which according to AT&T is "the first and only smartphone built to feature Facebook Home." As an alternative to purchasing the HTC First phone, end users with Android phones can download a free version of Facebook Home software.
Facebook Home, launched yesterday, is not quite an operating system but according to live blogs from Facebook's launch event yesterday,  Facebook CEO Mark Zuckerberg called it "deeper than an ordinary app." The launch event took place at Facebook headquarters in Menlo Park, Calif.
HTC First will retail for $99 and will be available through AT&T beginning April 12. While AT&T has first dibs on the device that comes preloaded with Facebook Home, anyone with a Android powered smartphone can download the new app for free, starting on April 12. Facebook also announced the new offering on the company's Facebook page, which includes links to additional information and a video about the new offering.
"From the moment you turn on your phone, you see what friends are sharing," explains the narrator of the video, which primarily features 20-somethings using their phones while hanging out alone or with real-life friends. One interesting capability of the new device is the ability to chat on-line with Facebook friends while using other apps. In addition, users can receive texts and Facebook messages in one place.
Facebook Home isn't the first effort to base a smartphone around social media. Some readers may recall Microsoft's failed effort with Kin three years ago.  But one would expect a social media smartphone developed by a company like Facebook with deep social media experience to be more on-target with end users.
A press release issued jointly by AT&T, Facebook and HTC offers a bullet list of Facebook Home features including:
Cover feed, a "constant, fresh stream" of photos and updates from the user's Facebook newsfeed.
Notifications from apps and friends appear on the user's home screen
Chat Heads, a mobile messenger that lets users "jump in and out of conversations" while they do other things such as watching videos or browsing the web
App Launcher enables users to see their favorite apps and post to Facebook from the same spot
 Instagram – HTC First claims to be the only phone with Facebook's photo app pre-loaded