The AT&T gigabit footprint will grow by 11 additional markets, as rebranding at AT&T continues with the introduction of AT&T Fiber. The rebrand of GigaPower to AT&T Fiber comes shortly after the retirement of the U-verse brand.
The AT&T gigabit footprint will eventually reach 67 markets and approximately 12.5 million locations, according to the company. Forty-five of those markets are expected to be on-line by the end of this year, with the remaining 22 completed by mid-2019. The new AT&T Fiber markets include:
Florida: Gainesville and Panama City
Georgia: Columbus
Kentucky: Central Kentucky
Louisiana: Lafayette
Mississippi:  Biloxi-Gulfport and Northeast Mississippi
North Carolina: Wilmington
Tennessee: Southeastern Tennessee and Knoxville
Texas: Corpus Christi
Currently, the AT&T gigabit footprint can reach 3 million locations, of which 500K are apartment and condo units. AT&T is selective with their FTTP network, 'surgically' launching ultra-broadband services within selected markets, rather than overbuilding entire markets.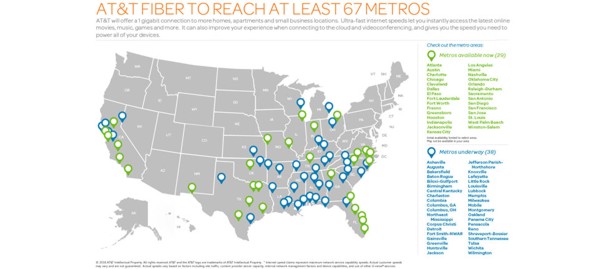 AT&T reports additional technologies beyond their current FTTP platform may be deployed under the AT&T Fiber umbrella brand.
"We will announce additional network technologies and products in our AT&T Fiber umbrella brand in the near future," says AT&T in a press release.
With the retirement of U-verse and GigaPower, the next branding move is expected to hit Directv at some point, with AT&T Entertainment lying in wait to replace it.
Image courtesy of flickr user Mike Mozart.