AT&T fiber subscribers now number 3.1 million, the company announced today on its quarterly earnings conference call. AT&T added 297K new fiber subscribers in 1Q19.
AT&T reports seeing about 25% penetration after launching fiber in new markets, but through bundling other AT&T services, executives say 50% penetration in these markets is achievable. To put AT&T's fiber numbers in context, Verizon through its Fios footprint, counts 6.1 million FTTP connections, up 52K in 1Q19.
"This is probably one of the more exciting areas of the business in terms of where we have invested heavily and now we're seeing the fruits of the investment," said AT&T Chairman and CEO Randall Stephenson on today's call. "Whenever we go into a neighborhood and turn up fiber, 25% [of market penetration] comes fast and 50% is eminently achievable."
Broadband growth is helping stabilize AT&T's Entertainment Group, AT&T executives said today. The Entertainment Group has the unfortunate reality of housing AT&T's many video offerings, all of which are in decline.
The legacy Directv service lost 544K subscribers in 1Q19, and AT&T's OTT offer DIRECTV NOW also lost 83K subscribers. But the Entertainment Group EBITDA grew to $2.8 billion in 1Q19, up $181 million, thanks in large part to broadband growth.
"It itself is helping drive EBITDA margin improvement at Entertainment Group," commented AT&T CFO John Stephens about fiber-driven broadband on today's call.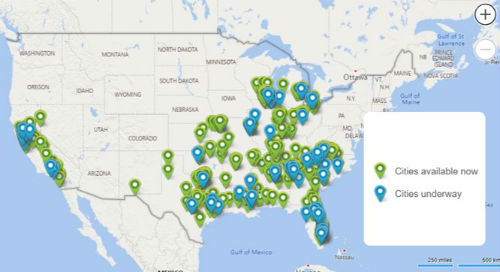 AT&T forecasts continued growth in fiber, in part due to their investment in 5G and FirstNet, which requires deep fiber backhaul. Those investments mean fiber will pass more locations and thus their FTTP footprint will continue to grow.
"Between 5G and FirstNet and just our natural desire and preference for fiber on new builds, you're going to see fiber continue to be pushed into this network and as business locations demand fiber, you're just going to see a capillary of fiber deployment continue over the next four or five years," said Stephenson.