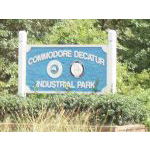 AT&T on Friday launched a new AT&T Fiber Ready designation in partnership with Georgia's Governor Nathan Deal and the state legislature. It's the latest example of how governments across the country have latched on to high-speed fiber network connectivity as a means of promoting investment and economic development.
It's thought that commercial property owners awarded the designation can use it in marketing campaigns to attract tenants, thereby boosting the local economy. "Working with Governor Deal, the members of the General Assembly have worked to keep Georgia's economy moving forward," Speaker of the Georgia House of Representatives David Ralston (R-Blue Ridge) was quoted as saying.
"As we implement pro-business policies to drive investment and create jobs, it is great to have the private sector develop additional tools – like the AT&T Fiber Ready designation – that can further help to attract employers to communities across the state."
AT&T Fiber Ready Designation
The Muscogee Technology Park in Columbus was the first to earn the AT&T Fiber Ready designation on February 4. The Magnolia Industrial Park II and Crossings Distribution Park in Tifton followed on February 18. Yet more recently, AT&T and the Development Authority of Bainbridge and Decatur County on February 24 announced the Decatur County Industrial Park and Commodore Industrial Park had also been designated AT&T Fiber Ready.
"Our resources in Georgia are extensive, but if potential investors aren't aware of the tech infrastructure in place across the state, then we face the potential of losing many opportunities,¨ commented Rick McCaskill, Development Authority executive director. ¨The AT&T Fiber Ready designation helps to eliminate those missed opportunities."
The designation is a natural extension of the fiber network infrastructure investments AT&T has been making in the state, AT&T Georgia president Bill Leahy noted. "AT&T has a long history of investment in the state of Georgia, and the AT&T Fiber Ready designation allows us to help economic development leaders to highlight the many places across Georgia where AT&T's fiber infrastructure is in place and ready to help local businesses drive job creation.
"Each and every day, our employees are turning our billions of dollars of investment into high-speed Internet for consumers and businesses across the state, and it's exciting for us to have the opportunity to provide yet another resource to our friends who are driving economic development in Georgia."