AT&T announced yesterday that it has launched its ultra-fast internet service in five new metro areas –  Springfield, Mo.; Corpus Christi, Texas; Madison, Wis.; Southeastern Tenn. and Wichita, Kan. The Witchita service will be available in only select areas, said a press release about the AT&T Fiber expansion.
"We now market our 100 percent fiber network powered by AT&T Fiber to over 7 million locations across 67 metros," said A&T in a blog post. These launches extend our lead as the largest fiber network within our 21-state home internet footprint. We plan to reach at least 12.5 million locations by mid-2019."
AT&T Fiber Expansion
In a recent report, Fibre to the Home Market, says the current value of that market is $9.5 billion, and will reach more than $37 billion by the end of 2027.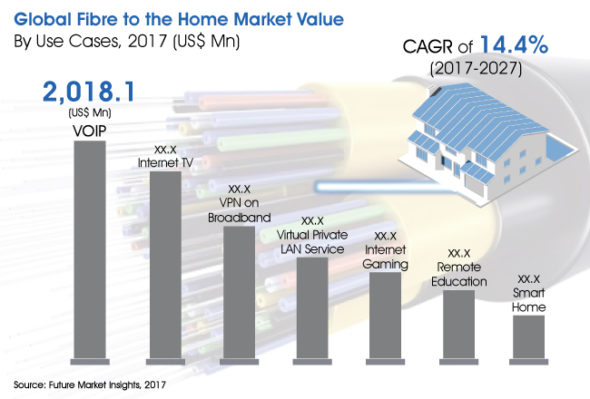 The anticipated growth will be driven by several factors, the report says: increases in the number of smart homes and gadgets, rising awareness regarding various advantages offered by fiber optics, favorable government initiatives in several regions, increasing adoption of environment friendly solutions (fiber has a smaller carbon footprint than other technologies), and rising demand for entertainment sources for residential applications.
On the AT&T network, eligible locations can choose from a range of internet speed plans on the company's fiber network designed to deliver the same speeds up and down, the company said on its blog. These plans include AT&T Internet 50, AT&T Internet 100 and AT&T Internet 1000 (1 Gbps), though a customer's actual speed may vary and customer speeds are not guaranteed.
Image courtesy of flickr user Matthew Wilson.