The race is on to achieve 12.5 million locations across 67 markets by 2019, which are the stated goals for AT&T fiber expansion. AT&T announced that 50 additional communities now have access to their gigabit capable fiber service, expanding their reach in 17 existing metro markets.
The new communities are located in markets including Chicago, Houston, Los Angeles, New Orleans, San Diego, and St. Louis, among many more. AT&T says they now reach 4 million locations across 51 metro locations, with 650K coming from apartment and condo MDUs.
Pricing for AT&T Fiber used to be market dependent, but an AT&T source confirmed with Telecompetitor that 1 Gbps (AT&T calls it AT&T Internet 1000) service pricing is now uniform at $80/month (with a 12 month commitment) across all markets. That price can go down to $70/month when bundled with another AT&T service.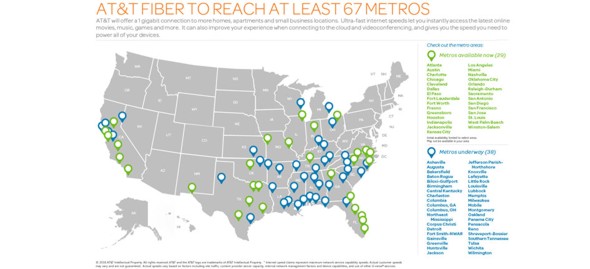 AT&T gets selective in these markets and communities, targeting specific neighborhoods, sub-divisions, and MDUs with their fiber service. Overbuilding an entire metro market with fiber is a challenge to say the least. Just ask Google Fiber.
AT&T is also exploring fixed wireless options for broadband access, and has several trials underway. Like Verizon, they also see promise in 5G for fixed wireless access.
This post has been updated, reflecting current AT&T pricing.