Network operators continue to explore potential use cases for 5G, and an interesting one comes this week from AT&T and LiveU, developer of cellular equipment for high-quality live video streaming suitable for use by broadcasters. The companies said they will test 5G live video streaming and the "real-world impact and performance enhancements 5G technology can have on live broadcast video production."
5G Live Video Streaming
LiveU currently offers live video streaming equipment that bonds multiple cellular networks together and LiveU Co-founder and Chief Operations Officer Avi Cohen said in an email to Telecompetitor that he expects to use that approach whenever LiveU launches a 5G offering.
"In the early days of LTE, it was important to have a failover to another carrier to ensure reliability for our broadcast customers," said Cohen. "We don't see cross carrier bonding going away completely as the backhaul is still important."
AT&T Business Chief Marketing Officer Mo Katibeh said in a press release that he expects 5G to support new live video streaming capabilities such as ultra-high-resolution 8K video or a 360-degree format of augmented reality and virtual reality.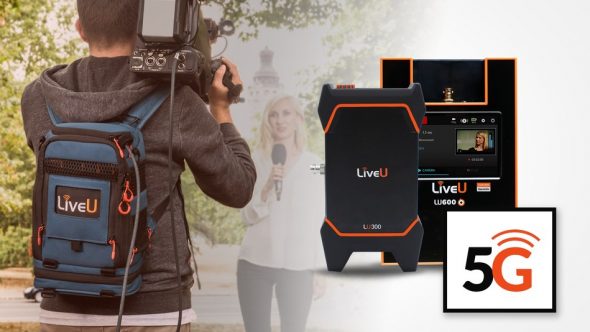 Asked about practical implications for AR/VR, Cohen noted that NBC already has streamed live VR using LiveU technology at the Women's March and the inauguration of President Trump. "The VR element allowed viewers to feel like they were alongside the crowds and getting an immersive view beyond the angle you would typically get from a single-camera view," Cohen said. "5G will definitely take this a step further and open up more content opportunities."
Cohen also expects 5G to support a higher-quality video return. Asked about when that capability would be used, Cohen pointed to the example of a reporter out in the field covering a weather event. In that situation, the reporter can use video return to monitor the studio while the weather map is being displayed and he or she is waiting to go live. The video return also could be used as a teleprompter in the field, Cohen noted.
Other capabilities that Cohen expects 5G to support include multiple channels of audio and multi-camera productions from a single portable transmission solution.
LiveU currently offers several versions of its product. One is a backpack offering, which according to Cohen, offers more modems and redundancy, providing higher quality and more reliable transmission in comparison with a smartphone offering which, he said, complements the company's transmission solutions. The smartphone offering allows reporters to go live in "a moment's notice" from their smartphones and send the cellular transmission to the station for broadcasting, he said. LiveU expects to use its portable broadcast units in the trials with AT&T.
The companies plan to use the AT&T Foundry for their testing of 5G live video streaming for broadcast applications.