AT&T has dispatched 25 drones to parts of southeast Texas impacted by Hurricane Harvey. The AT&T drones will be used to inspect cell towers that can't be reached in other ways because of flooding.
"Drones can take HD video and photos of a cell site, giving us a bird's eye view of the tower," said AT&T in a blog post. "This offers high quality visuals of equipment, components and cabling so our engineers can remotely view cell sites safely from the ground – all in real time."
An AT&T video offers a drones-eye view of a cellsite inspection.
According to the latest FCC data, 4.2% of cellsites in the 55 counties constituting the Hurricane Harvey disaster area were out of service as of yesterday – down from 4.7% the day before. Only one county had more than 40% of cellsites out of service yesterday and the exact percentage there was down to 47.4% from 84.2% the day before. Two counties had between 20% and 40% of cellsites out of service according to yesterday's FCC data, with the rest under 20%.
Those numbers included cellsites supporting all wireless carriers.
AT&T Drones
AT&T launched a drone program just over a year ago, noting at the time that drones could be a good way to inspect cellsites.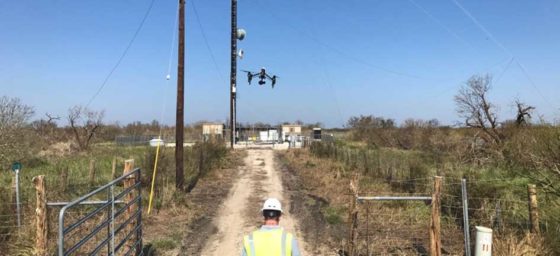 Earlier this year, the director of AT&T's drone project told us the company also had been testing the use of drone-mounted radios and antennas to augment its cellular network in the case of a natural or man-made disaster.
Verizon also has been pioneering the use of drones in telecom, including using them to support a customer's vineyard operations and purchasing a company specializing in drone management software.
Update: Verizon also is using drones to inspect cellsites in the Hurricane Harvey disaster area. Here is a Verizon video.