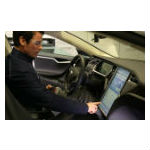 The ability to control home security and control systems from a "connected car," announced today, could further differentiate AT&T's strategy in both the connected car and the home security and control markets.
AT&T's connected car strategy is to provide a modularized platform for auto makers to create their own connected car offerings. Today's news gives auto makers the ability to add the ability to control AT&T's Digital Life home management system from that platform. AT&T already has inked deals with several automakers involving the connected car, which in turn is generating substantial wireless service business for the carrier. This is rather different from the strategy of some other wireless carriers in the connected car market. Verizon, for example, seems to be emphasizing an after-market approach.
AT&T already has a differentiated strategy in the home security and control market as well. Unlike some other service providers the company operates its own central monitoring station and can use its own wireless data service for communications between the control panel and the central station, which ultimately could enable the company to offer the service nationwide. (Customers also gain the ability to control the system from any smartphone through a protected interface.)
Cable companies, in contrast, rely on landline broadband for communications with a third-party central station, effectively limiting service to their cable service footprint and potentially generating narrower monitoring margins because of the third-party approach. Meanwhile, Verizon stopped selling its initial home control product and has yet to offer a monitored service.
Connected Car and Home Control
There are still considerable unknowns about AT&T's Digital Life offering for the connected car, however – unknowns that could determine the success of the service. An ATT spokesperson declined to answer several questions from Telecompetitor about the new connected car capability including:
Whether the company is partnering with other service providers to provide wireless connectivity for the connected car in other countries — although it would appear that it must be. Today's press release touts the ability of "a single carrier to wirelessly enhance and connect products across the globe."
Whether AT&T will bill the car company or end users for monthly wireless service
Whether AT&T will put a data cap on monthly data usage
Instead the company gave us PR-speak, stating only that "Automakers have a variety of different business models and service plans for their connected car services, so the pricing and structure of their plans will be dependent on the services the OEM seeks to offer."