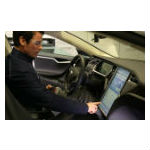 AT&T connected vehicles now number nearly 27 million, according to a company blog post. The 29 global brands covered collectively have more than 1 million Wi-Fi hotspot subscribers.
The carrier's mobile initiatives appear to be thriving in other ways as well. The AT&T Drive Studio in Atlanta, which opened in 2012, has had more than 10,000 visitors. In the third quarter of the year, AT&T added more than 2 million connected cars and now has almost 24 million on its network. It has added more than 1 million connected cars for 14 consecutive quarters. It also connects more than 3 million fleet vehicles, helping them achieve the 27 million total.
AT&T Connected Vehicles
The expansive update, which was written by AT&T IoT Solutions President Chris Penrose, says that the company serves Airstream, Audi, BMW, Buick, Cadillac, Chevrolet, Chrysler, Dodge, Ford, Freightliner, GMC, Honda, Infiniti, Jaguar, Jeep, Land Rover, Lincoln, Mercedes-Benz, Navistar, Nissan, Opel, Porsche, Ram, Skoda, Subaru, Tesla, Vauxhall, Volvo and VW.
The post offers many other examples of the company's involvement. Penrose points to the future, which features deeper automation of vehicles. "Now we're on the cusp of the next chapter that will be transformative – and connectivity will play an essential role," he wrote. "We're working with car manufacturers to put the pieces in place for totally automated cars that will make the roadways safer and more efficient, reduce traffic and give us more time for living. And 5G will open the door to new business models and new experiences."
AT&T also announced that it is expanding its relationship with Daimler Trucks North America. AT&T already provides connectivity for the Detroit Connect platform that is installed on new DTNA Freightliner Cascadia trucks built for use in the U.S. and Canada.
Now trucks built for use in Australia and many European markets also will be connected by AT&T. The European markets are Austria, Belgium, Bulgaria, Czech Republic, Denmark, Finland, France, Germany, Greece, Hungary, Ireland, Italy, Latvia, Lithuania, Netherlands, Norway, Poland, Portugal, Romania, Spain, Sweden, Switzerland and the United Kingdom.