Randall Stephenson is retiring as AT&T CEO, though he will continue as chairman until January 2021, the company announced today. Stephenson's retirement is effective as of June 1, with John Stankey taking over the position. Stankey will also join the company's board as of July 1.
Stephenson had held the CEO position for 13 years.
The company's human resources committee, comprised entirely of independent directors and supported by outside consultants, engaged in an extensive five-month search process to select a replacement and chose Stankey, the company reported.
Stankey has been the company's president and COO since October 2019. Stankey joined AT&T in 1985 and has more than 30 years of experience with the company, from corporate strategy and technology to operations and media and entertainment. Stankey has served in a variety of roles, including: CEO of WarnerMedia; CEO of AT&T Entertainment Group; Chief Strategy Officer; Chief Technology Officer; CEO of AT&T Operations; and CEO of AT&T Business Solutions.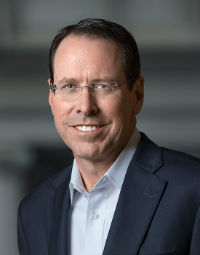 Randall Stephenson Retirement
"I congratulate John, and I look forward to partnering with him as the leadership team moves forward on our strategic initiatives while navigating the difficult economic and health challenges currently facing our country and the world," Stephenson said, in a prepared statement. "John has the right experiences and skills, and the unflinching determination every CEO needs to act on his convictions. He has a terrific leadership team onboard to ensure AT&T remains strong and continues to deliver for customers and shareholders for years to come."
Matt Rose, AT&T's independent lead director, added: "Randall has done an outstanding job as CEO in transforming AT&T into a leader in communications, technology, and media and entertainment. His strong leadership and strategic investments during a period of unprecedented customer demand for mobile communications and premium entertainment have positioned the company extremely well for the years ahead. We look forward to Randall continuing to lead the Board and working with John to ensure a smooth leadership transition."
The Randall Stephenson retirement announcement comes right in the middle of AT&T's 5G roll out, which has just reached 90 markets.