Carriers may be motivated to shift mobile voice traffic to their LTE networks primarily to save costs, but as news today about a new AT&T capability called Call Protect illustrates, that move also can enable new capabilities for end users. AT&T Call Protect is a free service that uses the wireless network to block suspected fraudulent calls before they reach end users.
But although AT&T has been very aggressive in adopting software defined networking (SDN), a company spokesperson said this particular capability does not rely on SDN at this time.
AT&T Call Protect
AT&T Call Protect is available to customers with mobile phones that support high-definition (HD) voice service and works in areas where HD voice service is available. According to AT&T's website, most AT&T and Samsung smartphones released in the last few years support HD voice, and so do devices from other manufacturers.
A map also posted on AT&T's website shows high-definition voice capability supported throughout a large part of the U.S., including major metro areas.
Customers with supported devices can enable AT&T Call Protect by downloading an AT&T Call Protect app. In addition to fraud blocking, customers gain suspected spam warnings, which let customers choose whether or not to answer suspected calls. The app also gives customers the ability to turn off blocking for specifically designated numbers and lets them block specific phone numbers for up to 30 days at a time.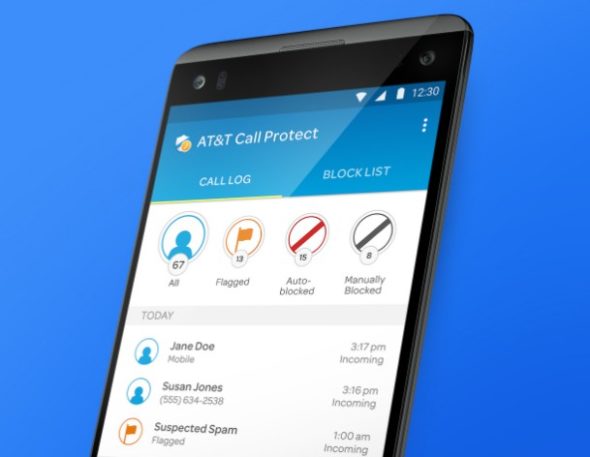 In a press release, AT&T Senior Vice President of Device and Network Services Marketing Jeff Bradley said AT&T Call Protect will help put customers more in control of the calls they receive. "We've listened to our customers and know they want a network that provides tools to proactively assist in blocking nuisance calls," he said.