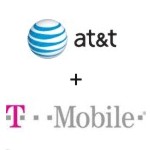 All the speculation surrounding an acquisition of T-Mobile centered on Sprint. But in reality, it was AT&T who coveted the fourth largest U.S. carrier. Today both AT&T and T-Mobile USA owner Deutsche Telekom AG of Germany announced that AT&T is buying T-Mobile USA for $39 billion. It should make for an interesting back drop during this week's CTIA show.
"After evaluating strategic options for T-Mobile USA, I am confident that AT&T is the best partner for our customers, shareholders and the mobile broadband ecosystem. Our common network technology makes this a logical combination and provides an efficient path to gaining the spectrum and network assets needed to provide T-Mobile customers with 4G LTE and the best devices. Also, the transaction returns significant value to Deutsche Telekom shareholders and allows us to retain exposure to the U.S. market," said Deutsche Telekom AG CEO René Obermann.
The comments I found most interesting from AT&T include "Rural and smaller communities will substantially benefit from the expansion of 4G LTE deployment, increasing the competitiveness of the businesses and entrepreneurs in these areas.." Is the reference to "rural and smaller communities" coverage a pre-emptive nod to the FCC and other policy makers for approval's sake?
The $39 billion deal includes $25 billion in cash, with the remainder to be paid with AT&T common stock. The final number of AT&T shares issued will vary and will be based on the AT&T share price during the 30-day period prior to closing, subject to a 7.5 percent collar. The cash portion will be financed through debt and existing AT&T cash reserves and may increase by up to $4.2 billion.
AT&T will not assume any T-Mobile USA debt in the transaction. After closing, AT&T is expected to generate nearly $80 billion in annual wireless services revenue, up from its current $58.5 billion. As a part of the deal Deutsche Telekom AG will gain at most an 8% or at least a 5% equity stake in AT&T, depending on the final amount of cash contributed to close the transaction.
The move makes more sense for T-Mobile USA given that both they and AT&T have a GSM platform and share similar roadmaps for 4G. A tie up with Sprint would have involved difficult network integration questions.
The acquisition, if approved, will catapult AT&T to the largest U.S. carrier by far. When combined with AT&T's 96 million customers, T-Mobile's 34 million customers will give the combined carrier approximately 130 million total wireless customers, far exceeding the now second largest carrier, Verizon Wireless with 101 million.
For AT&T, they gain valuable network assets which will help with their well documented network challenges, especially with data centric devices like the iPhone and tablets. I expect we may see Verizon respond with an acquisition of their own – maybe U.S. Cellular, who shares their CDMA platform?
Let the speculation begin.