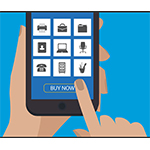 AT&T sees an opening for simplified discovery and management of business mobile apps and will launch their AT&T Business Console platform later this year to address it. The new platform is designed to become a virtual, one-stop online mobility shop and will double as a mobility business customer service center.
Example uses for  the AT&T Business Console range from simplifying and streamlining the discovery of relevant business apps for business and enterprise customers, to purchasing, configuring and maintaining mobile devices, apps and network services offered by AT&T, the company says.
The initial iteration of AT&T Business Console will focus on managing mobile apps and services that work with Android, iOS and other mobile operating systems. Notably, AT&T says it will eventually support devices from other wireless carriers, as well as Wi-Fi-only devices.
Business Mobile App Usage on the Rise
On average, businesses today have installed 10-16 "off the shelf" cloud applications on employees' mobile devices, AT&T points out, which is up 20 percent from 2015. Choosing relevant applications for their business, and then purchasing, configuring, distributing and managing them for employee use is a complicated, time-intensive process, even for a small business.
"Our customers are on a journey to transform how, where and when they do business. In support of this transformation, we're giving customers the ability to select, configure and manage their applications with AT&T Business Console," said Steve McGaw, AT&T Business Solutions' chief marketing officer.
AT&T Business Console leverages the carrier's investments in software-defined networking (SDN) and network functions virtualization (NFV), as well as efforts to work with independent software vendors and developers to develop and offer content and useful tools more simply and effectively, the company said.