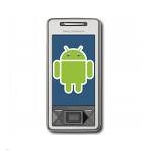 AT&T doesn't want Verizon getting all the Android glory – they have a little of their own brewing. According to a Wall Street Journal article, AT&T will launch an Android handset built by Dell.
Dell has been playing around with cell phones in China, but this would be their first U.S. handset. All identified parties have 'no comment.' The report suggests the new AT&T Android device should hit sometime in 2010.
Give the Google PR machine some credit. It's been all about Android this week. Anybody heard from RIM lately?