AT&T Fiber deployments can now reach 6 million locations across 61 metro markets, the carrier announced today. New markets are concentrated in the south and they include Columbus, Ga.; Lafayette, La., Montgomery, Ala. and Macon, Ga.
AT&T says they are on target to reach 7 million locations by the end of 2017, with a broader goal of 12.5 million locations by mid-2019. AT&T accepted these AT&T fiber deployments as a condition of approval of their acquisition of Directv.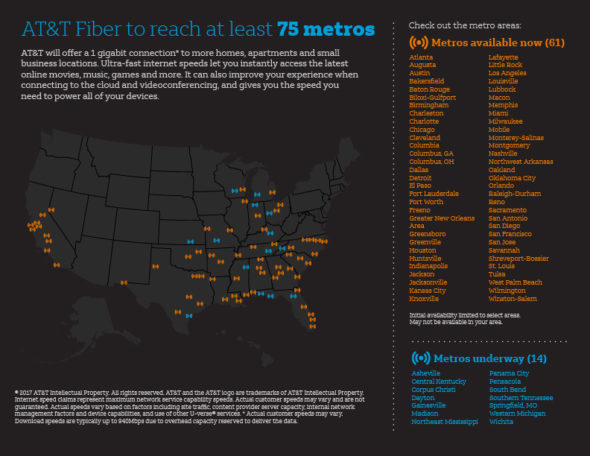 Within AT&T Fiber markets, AT&T markets multiple speed tiers including 50 Mbps, 100 Mbps, and gigabit, or AT&T Internet 1000 as it's marketed. Gigabit fiber Internet service starts at $70 per month, when bundled with other AT&T services, or $80 per month as a stand-alone service, with a 12-month contract.
Back in August, AT&T revealed they have close to 2 million fiber broadband subscribers, across what was 57 markets at the time. AT&T now joins Verizon and Frontier as the top three telco FTTP providers in the U.S.