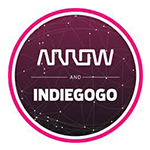 A new IoT entrepreneur certification program called the Arrow Certification Program is a partnership between Arrow Electronics, AT&T and the Indiegogo crowdsourcing site. AT&T will provide network access – including 4G LTE, 5G, LTE-M and NB-IoT in the future.
In addition to the network access, interested entrepreneurs are provided with SIM cards, data plans and IoT developer tools. Top projects are sold online and potentially through AT&T distribution, including retail outlets. AT&T and Arrow will provide $250,000 in flash funding this year to these projects.
The certification program already has produced a smart collar to track the health of pets (Waggit) and a smart home monitoring device that fits into a lamp socket (Anyware).
"Funding and access to resources are two of the biggest obstacles that developers face," Chris Penrose, the President of IoT Solutions at AT&T, said in a press release. "We're looking to help remove those challenges so that entrepreneurs can do what they do best – innovate. Our IoT connectivity and unmatched distribution, combined with Arrow's technology expertise and Indiegogo's world class platform, will help speed the process from concept to the consumer."
Last year, AT&T and Arrow announced that they would help companies innovate through The AT&T Foundry. Entrepreneurs can apply through both the Arrow or Indiegogo websites. IoT proposals are evaluated by Arrow engineers. Those deemed feasible are given an Arrow Certified Technology badge.
The evolution of technology has made it possible for big corporations to dip into a pool of talent that everyone always knew was there but was not accessible until the past decade or so.
Verizon has been active in this area as well. Last November the carrier and Responder Corp. formed The 5G First Responder Lab at the carrier's 5G Lab at Alley in Washington, D.C. The Alley has produced a number of 5G IoT initiatives: ChalkTalk (aritificial reality on mobile devices); ReCoVR (virtual reality exertcises on motor skills); Arvizio (mixed reality tools for supporing remote workers); BriefCam (high-speed analytics of HD video) and LiquidSky (high-quality cloud gaming).