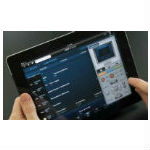 AT&T announced additional second-screen and social features for its U-verse IPTV service this week. Taken one by one, they are not earth-shattering, but coupled with previous announcements and taken as a whole, they make strong contributions to AT&T's desire for a competitive and differentiated entertainment offer
On the content side, AT&T's U-verse App for the iPad, iPod Touch and iPhone has access to more video programming, from HBO, Starz, Encore, Music Choice, Movieplex, and Cinemax. Also, U-verse subscribers can use the app to bring up sports statistics, video replays, and previews on the second screen while they are watching sports programming on the main TV screen. These new features join the app's existing ability to bring up the electronic program guide, change channels, control on-demand playback and set up DVR recordings.
On the social TV side, U-verse users can use the U-verse App to tell their Facebook and Twitter friends what they are watching. This new Twitter and Facebook integration, combined with previous social TV apps launched back in October of 2011 demonstrate a growing focus by AT&T on the evolving social nature of the television experience. Previous U-verse social TV apps  were built by independent developers, including Miso and Buddy TV, in collaboration with the AT&T Foundry, a co-development facility provided for developers by AT&T and partnered companies.  So, in a way, AT&T has gotten 'social' with its entire network platform. Any software developer can leverage the AT&T network to create applications of their own, leveraging AT&T's network and set-top box APIs – and then offer their resulting apps through the App Store in iTunes.
In context, the social features are something of a turn-around for AT&T. A couple of years ago when other service providers began to launch Facebook and Twitter apps, AT&T officials countered that they had made a deliberate decision not to launch social features. AT&T's rationale was that although TV dominates the family room in most households, and even though social media is, well, social, the social media experience itself is private and therefore not something that many people would adopt on TV.
Judge for yourself whether the U-verse App is an increasingly handy virtual Swiss Army Knife of sorts or whether it might instead be bordering on bloatware. By analogy, Apple's iTunes application started as a simple music player but now it's a single portal for everything. It's come a long way since "Rip. Mix. Burn." Lately, iTunes has been the target of criticism as being confusing and for going far beyond its mission. But the critics never seem to suggest solutions. Personally, I like the idea of having one place to go.