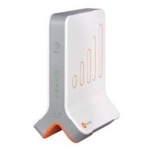 AT&T is pulling the trigger on a nationwide femtocell product called the AT&T 3G Microcell. The AT&T femtocell service allows its wireless customers to route their wireless voice and 3G data connections via their home broadband service, thus relieving AT&T's wireless network of the task. Femtocells have a mixed record of success and AT&T is the first company to go nationwide with a true 3G version. The service will be available in mid-April and will be rolled out in different markets over the next few months.
The 3G Microcell is priced at $149.99, but AT&T is offering a $100 rebate for customers who select the $20/month unlimited microcell calling plan. When paying a microcell calling plan, all minutes that route through the femtocell do not count against the customer's existing wireless monthly minute plan. AT&T is also offering an additional $50 rebate to customers who purchase a new broadband connection in conjunction with the femtocell activation.
For wireless carriers, the concept of a femtocell makes great sense. It allows them to offload traffic off their crowded wireless infrastructure and put it on what is often the case, someone else's broadband network. For AT&T, this is especially helpful, given their well documented 3G bandwidth challenges, mostly due to the success of the bandwidth hungry iPhone. It doesn't hurt that customer's pay for the 'privilege' of this offload.
That last point is one of the concerns of the whole femtocell model. Will enough customers pay those additional fees? Given that many smartphones now come with Wi-Fi access, and most smartphone homes already have a Wi-Fi home network, the femtocell value proposition becomes even more clouded. AT&T appears to be trying to address these value issues with the microcell rebate promotion. Will it be enough?
Should femtocells catch on, they could have ugly implications for wireline only carriers, at least as it relates to legacy voice service. Customers who have resisted cutting the wireline cord because of poor in-home wireless coverage may now have that hurdle removed. Then again the optimist in me says, it's all the more reason for that customer to buy a broadband line from that same wireline carrier.