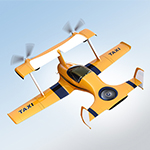 Things are taking off for AT&T and Uber. In fact, the hope is that they will go straight up. A new AT&T and Uber partnership is focused on exploring electric vertical takeoff and landing vehicles (eVTOLs) and drones. The carrier and Uber's Elevate air mobility business unit will explore using LTE and 5G to make cargo drones and air taxis viable.
"We're in the very earliest stages of seeing what 5G can do to augment next-generation air travel, but we're excited for the possibilities," Andre Fuetsch, the President of AT&T Labs, and CTO, said in a press release. "Ridesharing services were one of the defining mobile applications of the 4G era. Air taxis and other new air vehicles could well eventually become a signature use case for 5G."
The multi-phase collaboration aims to develop "next-generation operational systems communications networks" that will enable safe and reliable aerial ridesharing and cargo delivery applications.
The primary phase of the collaboration will last at least a year. AT&T Foundry and Elevate will assess and enable 4G and 5G connectivity for piloted aircraft and autonomous cargo drones in low altitude airspace. The goal, AT&T says, is to "test the boundaries of viable new technologies for aerial connectivity." Next steps may include projects focused on edge computing and network slicing.
Elevate experts will provide airspace management expertise, ridesharing software and flight operations. It also will offer its Uber Copter pilot operations in New York. The company plans to launch aerial ridesharing services in 2023 with operations in Dallas-Fort Worth, Los Angeles, and an as-yet-unnamed international city.
The space above our heads but below the clouds is getting increasing attention from the telecommunications ecosystem. Drivers are the great amount of bandwidth 5G will offer and the need for innovative and exciting new services. Last year, for instance, GlobalData recommended that telcos and webscale companies work together on balloons and drones.