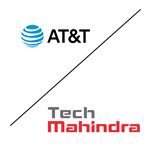 Tech Mahindra says that it has expanded its strategic collaboration with AT&T. The goal is to accelerate the carrier's IT network application, shared systems modernization and move into the cloud. It is a multiyear agreement. India-based Tech Mahindra is a global IT conglomerate.
The two companies aim to improve agility in rolling out and supporting new networks and improving ROI by technology-led transformation. The transformation will include aggregating functionalities, optimizing business processes, costs efficiencies and quality. Areas of concentration will include artificial intelligence, DevOps, data analytics and 5G.
"Our agreement with Tech Mahindra is another step forward in delivering greater flexibility across our IT operations," Jon Summers, AT&T Communications' CIO, said in a press release. "This includes optimizing our core operations and modernizing our internal network applications to accelerate innovation as we march forward to our goal of a nationwide 5G network by the first half of 2020. Our collaboration with Tech Mahindra will ultimately help accelerate our network operations and overall technology leadership."
The agreement will help AT&T achieve core objectives, which include moving to software-defined networks and migrating most of its non-network workloads to the public cloud by 2024, the company said. AT&T expects to see sustainable operational improvements in its network and in software development.
Legacy telecommunications carriers are faced with the Herculean task of transforming how they operate while simultaneously offering broader services and adding subscribers. One of those changes, as indicated on the agreement between AT&T and Tech Mahindra, is the move toward the cloud.
Last month, AT&T Lab's senior vice president Chris Rice wrote in a blog post that the transition will involve two types of cloud. The carrier will use private clouds to support network functionality and public clouds to serve more general functionality such as billing, customer care, human resources and finance. This is where Tech Mahindra will support AT&T.