AT&T received high wireless provider rankings in a new report from RootMetrics. The company led in US national and state testing, winning six out of seven awards at the national level, including an outright win in the US Overall Performance category, which Verizon had previously held for 18 straight test periods.
AT&T also led the competition in state-level testing, with the company's 259 state-level awards far more than those of Verizon (205) or T-Mobile, according to the report.
T-Mobile had the fastest delivered 5G speed and fastest overall speeds, according to the researchers. The company also won on 5G availability. That enabled the company to earn honors for delivering the best 5G experience of any carrier in the US for the third straight time.
This was the third straight report in which T-Mobile had the fastest 5G, recording the fastest 5th percentile, median, and 95th percentile 5G download speeds in 68 out of 125 markets, far ahead of Verizon (5) and AT&T (0).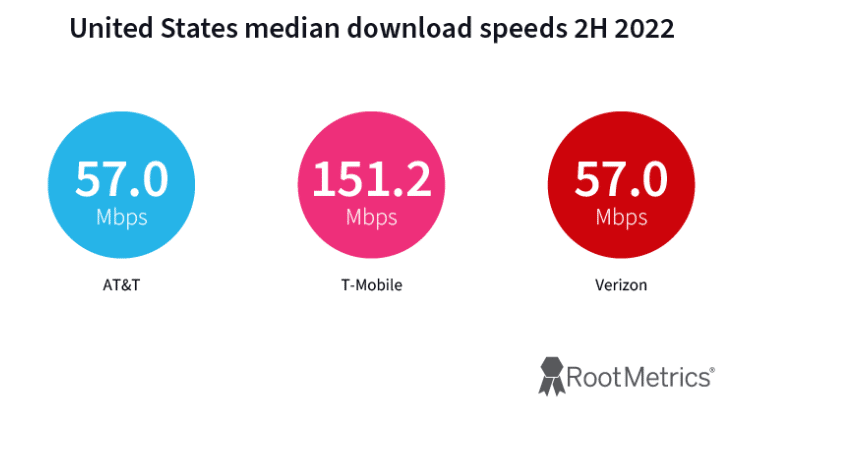 The company's speed continues to increase as well, with T-Mobile being the only carrier to post median download speeds (across all network types — not just 5G) above 200 Mbps in the second half of the year, hitting that mark in 59 cities. T-Mobile also delivered median download speeds above 300 Mbps in 32 of those metros and even exceeded 400 Mbps in one.
Verizon Wireless Provider Rankings
Verizon, which has dominated some earlier RootMetrics reports had the best 5G data reliability for the fourth straight time, delivering the best 5G data reliability in 95 out of 125 markets in the second half of the year, significantly higher than that of any other carrier.
Verizon also won 747 Metro RootScore Awards out of 875 total chances, by far the most of any carrier, RootMetrics notes.