AT&T has partnered with iconic recreational vehicle maker Airstream to provide 4G LTE connectivity to the Airstream Silver Bullet, starting with 2019 model Airstream Classic recreational vehicles. The AT&T Airstream deal targets what the companies call a smart RV.
The connectivity makes the Airstream Classic a mobile hotspot, giving owners the capability of connecting up to 10 smartphones, tablets and smart TVs; streaming music and watching television.
Beyond fast broadband communications, the deal will also provide Airstream Classic owners with the ability to use AT&T's Smart Control mobile app to remotely monitor and control battery power, lighting, indoor temperature, propane tanks, water levels, awnings, ventilation, etc.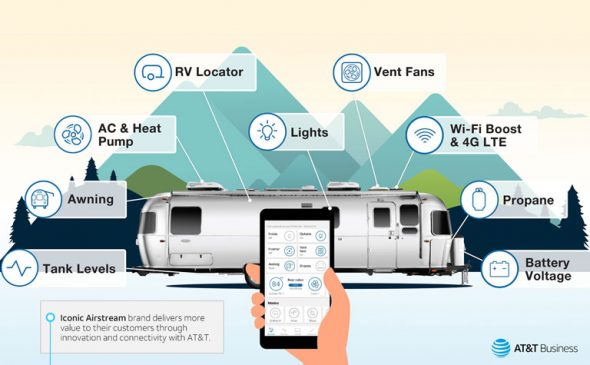 However, even though AT&T promotes this new offering as a way to stay connected while camping, it also cautions that service is not available everywhere.
AT&T Airstream Smart RV
"The Internet of Things is transforming the way we work and play every day," said Chris Penrose, president, IoT solutions for AT&T in a prepared statement.  "We're making it easier to stay connected and bring the conveniences of home – even while you're out camping with friends or family."
"Digital technology has improved almost every aspect of our lives," added Bob Wheeler, Airstream president. "Shouldn't it make camping better, too? We think so. That's why we're leading the way with our new Smart Control Technology and connectivity solution, starting with our Airstream Classic travel trailers."
The AT&T data plans start at $25 per month for 5 gigabytes of monthly data, or for $360 customers can get 1 year of unlimited data.