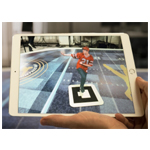 Some people have questioned whether we need 5G. So it's only logical that AT&T has organized a demonstration of what 5G technology can do. As the carrier gets set to launch 5G service before the year is out, an AT&T 3D 5G demo will give fans at an upcoming National Football League game the opportunity to experience the technology first hand.
The demonstration, which will feature dancing fans, is slated for November 18 in Atlanta. It will be conducted in the tailgate area of the Mercedes-Benz Stadium before the game between the Falcons and the Dallas Cowboys. Participants will do end zone dances on two XR Cast capture stages. Others can watch in augmented reality on a miniature football field on provided tablets. Participants subsequently will be able to view their own dances and mash up their dances with others. They can share the results on social media.
Here is how the AT&T 3D 5G demo will work:
A portable stage with depth sensing cameras captures a person in 360-degrees and is processed in real time on a single PC
The 3D captures are streamed in real-time
3D hologram will be viewed in augmented reality, allowing viewers to see themselves as a miniature figure dancing on whichever surface they're at, such as a desk or couch
The augmented reality holograms can be viewed on personal mobile devices through a web app that allows for viewing in augmented reality
Underlying the AT&T 3D 5G demo will be Jaunt's XR Cast, a volumetric capture and live streaming holographic technology.
"For the first time, portable and affordable real-time volumetric capture is now available for collaborators to create powerful experiences unrivaled by traditional content and video," Jaunt CEO Mitzi Reaugh said in a press release. "XR Cast is for companies to connect with their audiences, tell stories, and build brand excitement like never before. The future of mobile content will feature volumetric capture AR experiences that completely change the way we connect with one another. XR Cast truly brings that future to life today and will only get better with the rollout of 5G networks."
Other carriers also are working to identify compelling applications that would leverage 5G connectivity. In May, Verizon created Alley, a 5G incubator. The company said that it is working with five groups: ChalkTalk, ReCoVR, Arvizio, BriefCam and LiquidSky.
And although Comcast has not revealed any 5G plans, the company has helped incubate advanced applications, including some involving augmented reality, that potentially could benefit from 5G connectivity.