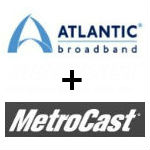 As cable companies continue to snatch market share from telcos offering slower broadband speeds, the cable industry has been undergoing a period of intense consolidation, as news today about an Atlantic Broadband MetroCast acquisition illustrates.
Atlantic Broadband owner Cogeco Communications said today that it will acquire all the cable systems operated by Harron Communications under the MetroCast name. In a press release, Cogeco CEO Louis Audet referred to the U.S. cable market as "growing and lucrative."
Cogeco claims to be the eighth largest cable operator in North America, operating under the Cogeco name in Quebec and Ontario and under the Atlantic Broadband name in western Pennsylvania, south Florida, Maryland/Delaware, South Carolina and eastern Connecticut. In 2015, Atlantic Broadband acquired MetroCast's Connecticut operations and according to Atlantic Broadband CEO Richard Shea, that experience should help simplify the new acquisition.
"[W]e understand first-hand the sizable residential and business growth potential that we can expect with the remaining MetroCast systems," said Shea in a press release about the Atlantic Broadband Metrocast deal. "We have a proven integration plan and a track record of successfully migrating our platforms and service offerings."
The deal values MetroCast's assets at $1.4 billion.
Atlantic Broadband MetroCast Deal
The MetroCast business that Atlantic Broadband plans to acquire passes close to 236,000 homes and businesses in New Hampshire, Maine, Pennsylvania, Maryland and Virginia, according to today's press release. MetroCast serves approximately 120,000 Internet, 76,000 video and 37,000 telephony customers, Atlantic Broadband said.
MetroCast provides broadband at speeds of 150 Mbps across its footprint over a fully digital network, according to today's press release. Nearly 100% of that network is based on 860 MHz coax or fiber to the home, Atlantic Broadband said.
An important component of the Atlantic Broadband MetroCast acquisition is an equity investment by a Quebec investment firm. The transaction is expected to close in January 2018.
The Atlantic Broadband MetroCast deal is one of the largest cable deals since Altice acquired Suddenlink and Cablevision and since the three-way merger involving Charter, Time Warner Cable and Bright House Communications.
Financial details of the Atlantic Broadband MetroCast deal can be found in today's press release.