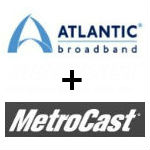 Consolidation in the pay-TV market isn't limited to tier 1 companies, as an announcement today from tier 2 cable operators Atlantic Broadband and MetroCast Communications illustrates. Atlantic Broadband, owned by Canada's Cogeco Cable, said it has reached an agreement to acquire "substantially all of the assets" of MetroCast's Connecticut operations for US$200 million. According to its website, MetroCast also operates in New Hampshire, Maine, Pennsylvania, Connecticut, Maryland, and Virginia.
Atlantic Broadband President and Chief Executive Officer Richard Shea said in a press release that Atlantic was attracted by the strong demographics of MetroCast's eastern Connecticut serving area and by MetroCast Connecticut's "well maintained networks."
Atlantic Broadband plans to launch new residential services such as TiVo as well as business services such as Metro Ethernet in MetroCast's serving area.
Atlantic Broadband is the 13th largest cable operator in the U.S., serving 224,000 television service customers in four operating regions: Western Pennsylvania, Miami Beach, Maryland/Delaware and Aiken, S.C.
MetroCast Connecticut's network passes close to 70,000 homes and businesses, according to Atlantic Broadband's press release. The Connecticut operations serve approximately 23,000 TV, 22,000 Internet and 8,000 phone customers.
Cable Consolidation
The Atlantic Broadband/ MetroCast deal comes just days after reports emerged that T-Mobile and Dish Networks were in talks to merge. If that deal is solidified it will be the latest in a string of tier 1 merger plans that also include AT&T/ DirecTV and a three-way merger involving Charter Communications, Time Warner Cable and Bright House Networks.
Also last week French network operator Altice said it planned to purchase tier 2 U.S. cable operator Suddenlink – and Altice reportedly plans to make other acquisitions as well.
Deals such as these are driven, in part, by pay TV providers' desire to obtain scale in order to improve their bargaining position with content providers, who have been asking for huge increases in what they charge pay TV providers to carry their content. Another important factor in some deals is the desire to be able to compete across a broad range of services as mobile video becomes increasingly important.