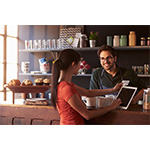 Integration of 4G LTE backup services from Altaworx is enabling Atlantic Broadband to offer 99.9% uptime in the service level agreements offered to its small and medium business (SMB) Internet customers.
Atlantic Broadband, which claims to be the eighth largest cable operator in the U.S., is offering the 4G backup for $27.99 per month. The Altaworx service activates when the primary Internet connection is broken and restores primary service when it becomes available. The customer is alerted to both transitions.
"Atlantic Broadband business customers will see enhanced levels of reliability with our new 4G LTE backup offering," John Romagnoli, Senior Director of Commercial Products for Atlantic Broadband said in a press release. "This offering provides real value for our customers not only because of its automatic activation and messaging capabilities but also because it helps us deliver the critical uptime that our customers require."
The move is indicative of cable operators' growing interest in SMB. This market has taken on added significance for the cable industry and is seen as a growth engine, often coming at the expense of local telco competitors.
This latest offer rounds out a growing SMB service portfolio for Atlantic Broadband, which also added 10 Gbps service for business customers earlier this week. Comcast Business has been particularly active in courting this sector. Last August, it introduced SecurityEdge, which was designed with Akamai. The service blocks access to compromised or malicious domains, filters Web content and provides insight into network security status.