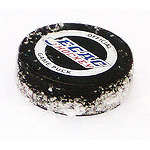 Less than a month ago, AT&T issued a press release stating they would be first to mobile 5G, proclaiming the next generation mobile service will be available on their network by the end of 2018. Most other 5G discussions for 2018 have focused on fixed broadband services.
AT&T offered a little more detail on their mobile 5G plans during their quarterly earnings report conference call. Turns out, they may have initially embellished a bit on the term 'mobile.'
When describing mobile 5G, AT&T CEO Randall Stephenson hedged a bit, according to a Seeking Alpha transcript. "But as you begin to think about mobile solutions, we will be deploying mobile solutions in 2018 and it's going to be in 12 markets, that's what we've been doing. Think of this as a puck. Because, really, the thing is going to cause 5G to go slow more than anything else, it's just availability of handsets," he said during questioning from Wall Street analysts.
It's not entirely clear what Stephenson meant by "puck." At first I wondered if this were a NHL great Wayne Gretzky analogy, as in "skate to where the puck is going." But I think not. I would assume Stephenson is referring to a portable 5G capable router (similar in size to a hockey puck), sometimes referred to as a "MiFi" device, or mobile hotspot. These devices allow other devices to connect to them via Wi-Fi, for 5G connectivity in this case.
"So, that's why we're going to be [deploying] pucks in the first part of our deployment in these 12 markets, so it is a mobile solution," said Stephenson. "But it's not going to be a handset."
It makes sense. When AT&T first announced their mobile 5G plans, they were a little light on the details. Handset availability is clearly an issue. Although there is accelerated progress on the 5G standards front, 5G capable handsets are not on the immediate horizon. This 'puck' approach is common with early next-generation wireless technology. I vividly remember the first 3G "pucks."
But is this what most people consider mobile? Technically speaking, you can make the argument it's a mobile service. But for most people, mobile is synonymous with smartphones. And 5G smartphones won't be widely available in 2018, if at all. We're going to have to wait some time for that.
Image courtesy of flickr user Jenn Vargas.