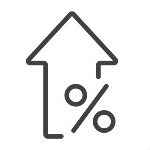 The Universal Service Fund (USF) contribution factor has hit 26%, notes AT&T Executive Vice President of Regulatory & State External Affairs Joan Marsh in a blog post.
As she explains, that means that telecom service providers pay an amount equal to 26% of their "voice and interstate transport" revenues to help cover the cost of increasingly ambitious broadband deployment goals. Ultimately, consumers of those services end up footing that bill.
The USF contribution factor percentage has been climbing steadily for at least 10 years and shows no sign of stopping. That system is unsustainable, Marsh argues.
"We are using declining voice revenues to pay for programs that are increasingly broadband-centric," said Marsh.
Telecompetitor did an analysis last year that illustrates exactly that point. We estimated that if trends continue, the contribution factor could reach 50% within the next 10 years.
USF Contribution Factor
Marsh reviews several suggestions that have been made for reforming how the USF program is funded.
She noted, for example, that AT&T some years ago proposed a system based on phone numbers that failed to gather support.
Another suggestion that some people, including me, have made is that broadband should be included in the contribution base, considering that so much of the USF budget goes toward broadband through deployment, low-income, rural healthcare and schools and libraries programs.
As both Marsh and I have noted, though, the latter is a tough sell. As she puts it: "The right objects because it is deemed a tax on the internet. The left objects based on the belief that it would impede broadband adoption by raising consumer bills, hitting low-income users the hardest."
A recent analysis from Berkeley Research Group for NTCA – The Rural Broadband Association found that demand for broadband is highly inelastic and that if the contribution base were to include broadband, causing broadband prices to rise slightly, less than 1% of subscribers would cancel service.
Nevertheless, Marsh argues that "[i]n my opinion, reform of the existing mechanism is politically impossible."
She saves her recommended solution for the final paragraph of her blog post.
"It's time for Congress to directly appropriate the funds to get the job done," she argues, also noting that it "does not make sense to impose a narrow excise tax on one industry to fund services that are so broadly beneficial and economically important for American citizens."
At one time I would have argued that getting Congress to directly appropriate funding for the USF program would be just as difficult, if not more so, than getting the FCC to add broadband revenues to the contribution base.
The COVID-19 pandemic may have changed my thinking on that, however, as it has brought heightened attention to the importance of broadband, while also highlighting the challenges of broadband adoption and the lack of broadband in some rural areas.
Congress already made some broadband funding available in the CARES Act. Maybe it's not out of the question for legislators to do what Marsh suggests.
I'd be interested to hear what readers think about this.