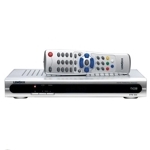 There's a ton of noise coming out of Vegas this week, thanks to CES. Lots of announcements of cool gadgets and the coming 4G mobile broadband revolution. That's par for the course for this time of year. The more interesting question is out of all this noise, what development will actually see the light of day and have real implications for broadband carriers?
One that caught my eye is actually a series of developments and announcements concerning the ubiquitous (and expensive) set-top-box. That 'necessary evil' for video service providers which enables them to offer a subscription digital video package as a standalone service or as a part of a double or triple play bundle. STB's are expensive, maybe the most capital expense intensive part of a video offering. They need to be maintained and upgraded, and they hold providers captive to the STB vendor in question, especially smaller service providers with little scale. Given the opportunity, most service providers would love to do away with them. They might get their chance.
We may be witnessing a crack in the STB armor. Several announcements this week out of CES offer glimpses of video service options with no STB required (or at least not necessary for every TV in the home).
Both Samsung and Sony announced trials with major cable MSOs, Comcast and Time Warner Cable among them, of multichannel video and VOD services being delivered directly to their 'connected TVs' via an IP connection without the need for a STB. This same functionality is also being extended to tablet computers like the Samsung Galaxy.
"In addition to watching live TV on the Smart TV and Tab, Mr. Britt demonstrated the capability for Time Warner Cable customers to access recorded content from a DVR elsewhere in the home directly on the Samsung Smart TV, without the need for a connected set-top box. This creates a multi-room viewing experience that doesn't require multiple set-top boxes in homes that have more than one connected TV," a Samsung press release details.
In effect what we're witnessing is the migration of video services into an application or app, which rides the IP network like all other apps. When this transformation is complete, the concept of TV Everywhere will indeed be true. Consumers will be able to access their 'video content app' on any IP enabled device. It's a vision explained well by Mari Silbey in her post 'What If Verizon FiOS TV Was an App?' In this world, a STB is no longer needed. Perhaps the 2011 CES signals the beginning of the end for STBs.
Before I get too far ahead of myself, this is not a transformation that will occur overnight, if it happens at all. It would take considerable time and a home gateway/STB that provides DVR and storage capability will probably still be desired within the home (at least until it makes sense to move those services to the cloud). It just won't be required at every TV set.
Then there's that pesky little detail of content rights. This scenario gets quite 'messy' once content owners and programmers are invited to the party. They tend to have a 'Debbie Downer' attitude regarding innovation. There's a lot to sort out with them before this vision becomes reality.
For existing video service providers, the challenge is to find a way to hold on to the subscription model during this transformation. That's exactly why you see Comcast, TWC, Verizon and others trying to get out in front with these developments. They have to, because Apple, Google, Roku, Boxee and others may already be one step ahead of them.