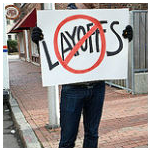 The proverbial elephant in the room for the telecom industry these days is the specter of layoffs – significant layoffs. Not many people want to talk about it, but most people know it's there. I was reminded of that recently after seeing two announcements from Windstream and Verizon about pending layoffs and buyouts. The numbers weren't huge – less than 2,000 in total – but are they a sign of more to come?
A variety of industry developments are 'conspiring' to make layoffs more prevalent. A few of these developments include:
Consolidation – Depending on how you count, there are over 1,000+ phone companies in the U.S. If you add cable, wireless, WISP, and other categories, it's more like 2,000+. Both technology and economic factors make this number of service providers unsustainable – in a broadband/IP world, you simply don't need that many networks. Consolidation is a fact of life and generally speaking, layoffs follow consolidation.
Technology Innovation – The rapid rise of Internet protocol as the underlying technology of telecom and broadband has many implications. One of them is less dependency on human beings. Take FTTH. Once it is built and operating, it takes fewer people to maintain than a copper network. There are fewer "moving parts" if you will. The cloud is another example. The more services that can be served by servers in the cloud, the less need for actual people to manage those services.
Efficiency – In some ways, today's worker is a victim of their own success. Productivity on a per worker basis has been rising for some time. This rise in productivity means fewer workers are needed to accomplish the same task. More productivity fuels the never ending drive toward efficiency. All organizations aim to be more efficient. Oftentimes that means fewer, yet more productive, workers.
This industry's reality is fewer workers are going to be necessary to operate the single broadband network than were needed to operate the separate telephone, video, and data networks of yesteryear.
But it's not all gloom and doom. Many of those fewer workers will come as the result of retirements/attrition, and buyouts may offer some sort of cushion over straight layoffs.
Additionally, the future will include significant opportunity – for those who are willing and able to adapt. Companies will be in need of smart, tech savvy, motivated, and 'hungry' employees. If you possess those attributes (among others), you will be in high demand.
I'll use an industry metaphor and equate it to a 'broadband' mentality, versus a 'legacy telephone' (or cable) mentality. If you are looking through the lens of broadband and what you see excites and motivates you, you should be in good shape. If you have a legacy 'telephone' or 'cable' lens and you focus on how everything was better 10 or 20 years ago, you may be in trouble – at least as it relates to an ongoing career in the broadband industry.
The future belongs to those who prepare for it. This industry's constant is now change. The workers who survive over the long term will be the ones who are able to adapt to it. That means educating yourself about the trends and developments that impact your company and your customers (and not relying solely on your company to provide this education). It also means having a genuine hunger to gain more skills, work smarter, and be flexible.
There are certainly no guarantees. There will be people who enthusiastically look through that broadband lens, yet get caught up in a layoff cycle. But I suspect those same people will have a better chance to rebound and find their place in this ever changing broadband economy. Good luck!
Image courtesy of flickr user openmediaboston.