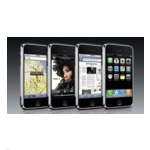 Though Google's Android mobile operating system has been coming out tops in terms of global smartphone activations, the latest market share statistics from Net Applications' NetMarketShare show just how potent Apple's line-up of iOS devices, apps and content is when it comes to mobile Web browsing,
Apple's iOS devices accounted for 52.1% of mobile browsing activity in December, far and away ahead of second ranked Java ME, which accounted for 21.27%, noted AppleInsider in a recent post. Google's Android ranked third with 16.29%, Symbian fourth at 5.76%, BlackBerry fifth at 3.51% and Other mobile OS last at 1.07%.
Taken together Apple iOS mobile devices' market share began climbing from February, hitting a peak of 61.5% in October, before tailing off and declining in November and December.
Zooming in on relative market share among Apple's line-up of mobile devices, the iPhone was the top ranked mobile device for browsing the Internet, capturing a 25.2% share of the market. The iPad ranked second with a 24.5% market share.
Second-ranked Java ME's market share had been on a steady decline from February, when it hit 26.8%, before surging to 19.69% in November and finishing off the year with a strong showing in December. Android's market share shows a steady increase through 2011, from 13.44% in February to its December 16.29%. Symbian's market share declined from 8.89% in February to a low of 3.47% in October before rebounding with a stronger November (5.27%) and December. BlackBerry's mobile OS market share ranged from a low of 2.48% in October to a high of 3.51% in December.
While mobile Web browsing is the fastest growing segment of the Internet browsing market space, mobile is still a very small slice of overall Web browsing activity. Desktop browsing accounted for 91.99% of activity in December, though it showed a fairly steady decline through 2011, having hit its high of 95.81% in February.