Apple today revealed more plans for Apple TV+, the video streaming service which will compete with the likes of Netflix, Hulu, HBOmax, and Disney+, among others. The new OTT service will be available starting Nov. 1.
Apple TV+ will offer original shows, movies and documentaries, including "The Morning Show," "Dickinson," "See," "For All Mankind" and "The Elephant Queen" via the Apple TV app on iPhone, iPad, Apple TV, iPod touch, Mac and other platforms for $4.99 per month, with a 7-day free trial.
Consumers who buy various Apple products starting today will receive a free one-year subscription to the Apple TV+ service. The service is commercial free and will be available on non-Apple platforms as well, including select Samsung smart TVs, and will come to Amazon Fire TV, LG, Roku, Sony and VIZIO platforms in the future.
"With Apple TV+, we are presenting all-original stories from the best, brightest and most creative minds, and we know viewers will find their new favorite show or movie on our service," said Zack Van Amburg, Apple's head of Worldwide Video, in a prepared statement.
Apple is embracing "password sharing" for OTT services by letting up to six family members share one Apple TV+ subscription using their own Apple ID and password. Apple TV+ is very competitively priced, even beating Disney+, which will be priced at $6.99/month.
"We look forward to giving audiences everywhere the opportunity to enjoy these compelling stories within a rich, personalized experience on all the screens they love," added Jaimie Erlicht, Apple's head of Worldwide Video, in a prepared statement.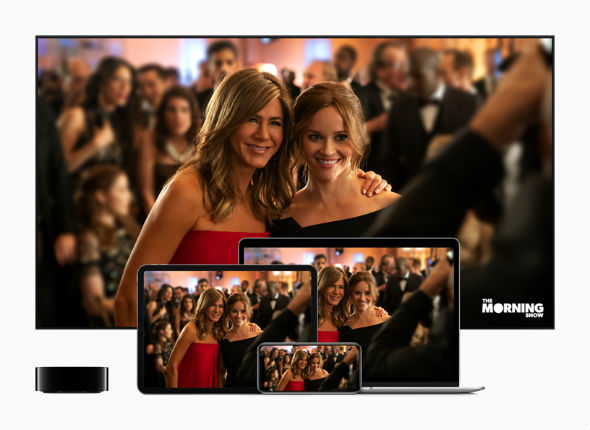 A few of the original shows the service will offer include:
"See," a drama starring Jason Momoa and Alfre Woodard set 600 years in the future after a virus has decimated humankind and rendered the remaining population blind.
"The Morning Show," a drama starring and produced by Reese Witherspoon and Jennifer Aniston, and starring Steve Carell, explores the world of morning news and the ego.
"Dickinson," a comedic coming-of-age story, explores the constraints of society, gender and family through the lens of rebellious young poet, Emily Dickinson.
"For All Mankind," imagines what would have happened if the global space race never ended and the space program remained the cultural centerpiece of America's hopes and dreams.
"Helpsters," a new children's series from the makers of "Sesame Street," stars Cody and a team of vibrant monsters who love to help solve problems. It all starts with a plan.