If there was a smartphone under the tree this holiday season, it was more likely to be an Apple product than any other brand, according to newly released Christmas device activations research from Flurry Analytics.
More than 4 in 10 smartphones (44%) purchased during the holiday season were Apple devices, followed by Samsung (26%) and Huawei (5%), Flurry reported.
Apple's results mirrored those of the previous year, while Samsung saw a 5% increase compared to the 2016 holiday season, which Flurry attributed to the 2017 introduction of the Galaxy S8 and the late 2016 recall of the malfunctioning Note devices.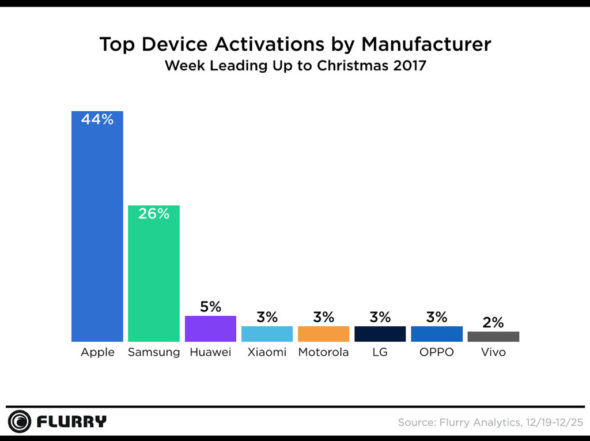 But it wasn't the recently introduced iPhone 10 that dominated the Apple sales as customers opted for older models, according to the Flurry Analytics report.
Apple's iPhone 7 was the most popular device, with 15.1% of the Apple market, followed by the iPhone 6 (14.9%), then the iPhone X (14.7%).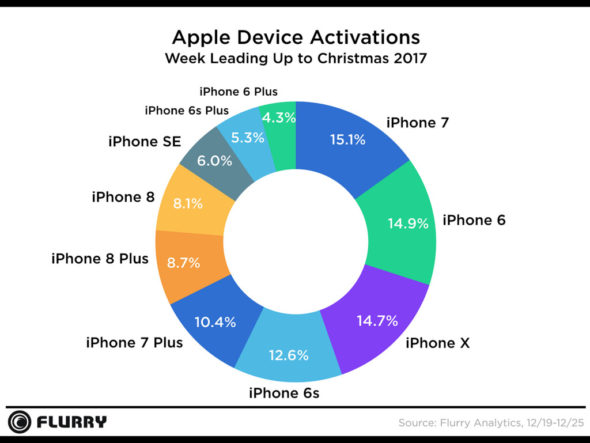 Those figures follow a trend we reported on earlier this year when separate research showed that iPhone 7 sales trailed that of the iPhone S in 2016.
Phablets Are Now Device of Choice
Phablets, a cross between smartphones and tablets with screen sizes of 5 inches or larger, grabbed the largest market share in 2017, according to Flurry. Just over half (53%) of all 2017 holiday device activations were phablets.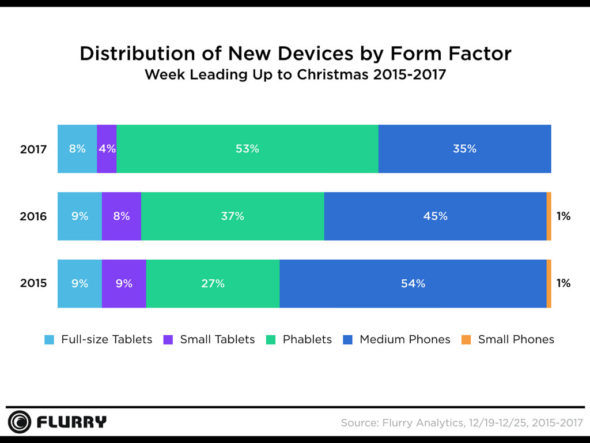 Phablets are eating away at both small size tablet market share (think iPad mini) and medium sized smartphones. Small tablets lost half their market share in 2017 device activations, at 4%, down from 8%, according to Flurry. Medium sized smartphones captured 35% of device activations in 2017, down from 45% in 2016.