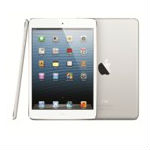 Introducing the eagerly awaited iPad mini at a launch event today, Apple executives were not shy about slamming the rival Android tablet platform. The iPad mini has a 7.9-inch diagonal screen which, according to Apple, is 35% larger than Android offerings that use a seven-inch screen — and the mini was designed to use existing iPad apps while Android offerings are "scaled up" phone apps, Apple execs said. Weighing.68 pounds and measuring 7.2 millimeters thick, the iPad mini is also thinner and lighter than competitive offerings.
Such premium features do not come without a premium price tag, however. For example, a 16 GB Android-based Nexus 7 tablet with WiFi retails for about $249, while a 16GB iPad mini with WiFi is priced at $329.
Apple also will be offering a 32 GB WiFi model for $429 and a 64GB WiFi model for $529. iPad minis with WiFi and cellular capability — including LTE — will be priced at $459, $559 and $659, respectively for 16GB, 32GB and 64GB models. Versions will be available for use with AT&T, Sprint and Verizon Wireless networks.
New Full-Size iPad Also Launched
More surprisingly, Apple today also announced a new version of its full-size iPad that uses the manufacturer's new A6X chip. According to Apple, the new chip yields twice the CPU performance and up to twice the graphics performance of the A5X chip used in the previous iPad model, launched just over six months ago, and in the iPad mini.
Both the new iPad and the iPad mini support the new higher-bandwidth WiFi 802.11n standard, as well as the earlier 802.11 WiFi standards that are supported by earlier versions of the iPad.
The new iPad, to be known as the fourth-generation iPad, will retail for $499 for a 16GB WiFi version up to $829 for a 64GB version with WiFi and cellular. The previous iPad 2 will now be priced at $399 for the 16GB WiFi model and $529 for the 16GB model with WiFi and 3G connectivity.
WiFi versions of the iPad mini and the fourth-generation iPad will begin shipping November 2; the versions with cellular capability will ship "a couple of weeks" later, Apple said.
When Apple launched the latest iPhone model just a couple of months ago, the product initially was available in the U.S. only through Sprint, Verizon Wireless and AT&T, but smaller carriers received the product soon after – a pattern we may see repeated with the new iPad models.
Unlike with past launches, Apple today streamed video from the iPad mini event through its web page. Although that feed was only available to people using Apple devices, at least one other media outlet streamed video from the event that could be viewed from other platforms.
Additional details about the iPad mini and the fourth-generation iPad are available in today's Apple press release.