All four major U.S. wireless carriers will offer the iPhone 6s and larger iPhone 6s Plus announced yesterday and for which the company will begin accepting pre-orders on September 12. An Apple spokesman said the company has not yet shared information about which carriers will offer the new iPad Pro also announced yesterday and scheduled for availability in November.
This year's annual Apple product launch also included a redesigned version of the Apple TV over-the-top video appliance that will give developers the ability to create apps for the platform and which will be available in October, according to Apple.
iPhone 6s Devices
Although some industry observers had cautioned that the iPhone 6s and iPhone 6s Plus would not be tremendously different from the iPhone 6 and IPhone 6 Plus that they will be replacing, Apple positioned the new offerings differently.
"The only thing that has changed with iPhone 6s and iPhone 6s Plus is everything," said Philip Schilller, Apple's senior vice president of worldwide marketing, in a press release. Schiller pointed to 3D Touch capability and Live Photos as two examples of how the new devices differ from earlier models.
3D Touch senses the force that a user applies when touching the phone, thereby giving users new ways to access features and interact with content, Apple said. Live Photos "brings your pictures to life," Schiller said.
Other capabilities of the new products not included on earlier versions include support for high-definition 4K video and the ability to run some features at all times at lower power, including "Hey Siri" – an enhanced version of the company's voice control interface.
Unlike with previous launches, customers also will be able to purchase the new iPhones from Apple on an installment plan similar to what carriers have been offering on a wide range of devices. When purchased from Apple, the iPhone 6 and iPhone 6s Plus will be available for 24 monthly payments starting at $27 and $31, respectively.
iPad Pro
Larger-size smartphones such as the iPhone 6 Plus have negatively impacted sales of full-size tablets over the last couple of years – and Apple apparently has decided that the appropriate response is to increase the size of its iPad tablet.
The company's new offering, dubbed iPad Pro, has a 12.9 inch Retina display. And, in a nod to the Microsoft Surface and similar 2-in-1 devices the iPad Pro features a Smart Keyboard, sold separately, which according to Apple provides the "accuracy, stability and satisfying key feel of standard keyboards but is also easily foldable and can transform into a Smart Cover."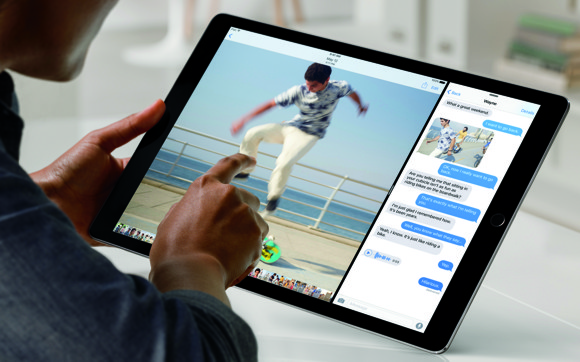 Another accessory for the iPad Pro is the Apple Pencil for iPad Pro, which according to Apple has advanced sensors that provide a "fast and fluid drawing experience."
The iPad Pro will sell for $799 for a Wi-Fi model and $1079 for a model that uses Wi-Fi or cellular. The Smart Keyboard will cost $169 and the Apple Pencil will cost $99.
Apple TV Redesign
An important new feature of the redesigned Apple TV is the Siri Remote – a remote control that has Apple's redesigned Siri voice control interface built in. As Apple explained, users will be able to search content by speaking commands such as "Find movies with Jason Bateman" or "Find popular TV shows for kids." Another Siri Remote feature is a built-in accelerometer and gyroscope that can support gaming apps.
The new Apple TV also features a new tvOS operating system based on Apple's iOS mobile operating platform. According to Apple, tvOS will enable iOS developers to create innovative new apps and games for Apple TV and sell them through a new Apple TV App Store.
The redesigned Apple TV will sell for $149 to $199, Apple said.