By 2021, Apple will rake in nearly $30 billion in revenue from iOS App Store sales, according to Strategy Analytics. Furthermore, between 2008 and 2021 Apple will have paid iOS mobile app developers more than $440 billion.
At present nearly 80 percent of the money that Apple pays out to iOS app developers results from online sales of virtual goods and in-app purchases. Game companies dominate, but that's going to change in coming years, Strategy Analytics highlights in a press release.
Apple App Store Sales Forecast
The revenues that global content owners — such as Netflix, Hulu, Disney, YouTube, Spotify and others — earn from iOS App Store sales will surge higher, the market research provider forecasts.
Growth in the numbers of new in-app subscribers will fuel the rise. Subscription sales will rise to account for 20 percent of iOS app revenues by 2021, up from 3 percent at present, Strategy Analytics predicts.
The App Store is already seen as a hugely popular and effective channel for content providers to attract new subscribers, up-sell existing users and expand their subscriber bases internationally. Looking ahead, Strategy Analytics sees even greater prospects.
iOS App Store services will expand in emerging markets, offering access for the first time to users of iPhones, iPads and other Apple devices. Netflix has quickly risen up the ranks of the highest grossing entertainment apps after offering in-app sign-up in more than 20 countries, Strategy Analytics notes.
"The ascent of Netflix to the top of the highest grossing entertainment apps within just days of enabling in-app sign-up is a testament to the power of apps and iOS," commented Joshua Martin, Strategy Analytics' chief evangelist of Apps Research.
"Simply by enabling a feature, Netflix found a new universe of users. The stickiness of subscription services such as Netflix and its contemporaries will see content owners sit atop the highest grossing entertainment apps and longer term, amongst the highest grossing apps overall globally."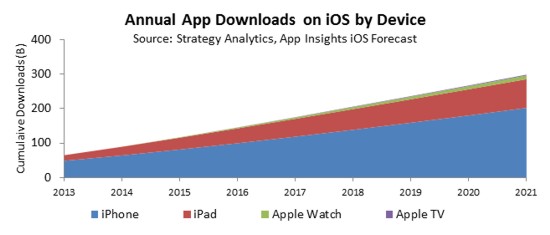 In addition, Apple's renewed focus on Apple TV and Apple Watch will extend the reach and capabilities of apps and add value to subscription services over and above that of entertainment.
Revenues form other app streams are expected to remain strong as well. In-app purchases will continue to yield billions in annual revenue throughout the report's forecast period, Martin said. He added that growth in subscriptions and consolidation among key players are trends that will drive future growth for the App Store, Apple, and content owners.