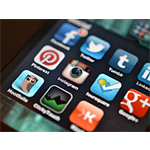 The "app economy" had its best quarter ever in both consumer spending and downloads in 1Q 2018, according to App Annie, a provider of app market data. Researchers measured app download growth at more than 10% year over year.
Combined global downloads for iOS and Google Play totaled 27.5 billion, the highest quarter ever. The growth was a year-over-year increase of more than 10%. Consumer spending grew 22% year-over-year to end the quarter at $18.4 billion.
"Both of these figures are staggering, especially since the downloads figure only reflects initial installs and does not include re-installs or app updates," said the firm's press release. Not counted in the totals were third-party Android stores, m-commerce and in-app advertising.
App Download Growth
Google Play downloaded more than 19.2 billion apps and iOS more than 8.2 billion apps during the quarter during which iOS narrowed the download gap by 10%. More than 6 million (6.2 million) apps were available across both iOS and Google Play at the end of the quarter. The average smartphone user employs apps for almost three hours per day and uses almost 40 apps per month.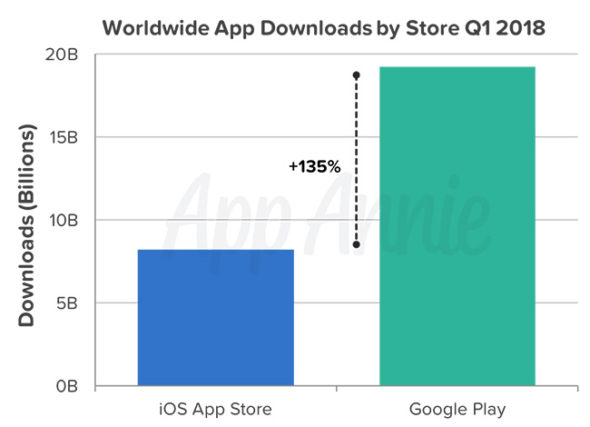 One of the drivers of the positive results was retail, as the migration to apps by e-commerce and traditional retailers continue. This trend will not stop, according to App Annie. Games also played a role in the quarter over quarter increases.
Geographically, the United States, Russia and Turkey saw large year-over-year growth for iOS download market share. The United States, Japan and the Philippines saw the largest market share growth for Google Play consumer spending. Market share growth is considered an important measure of absolute growth and as a gauge of activity across regions.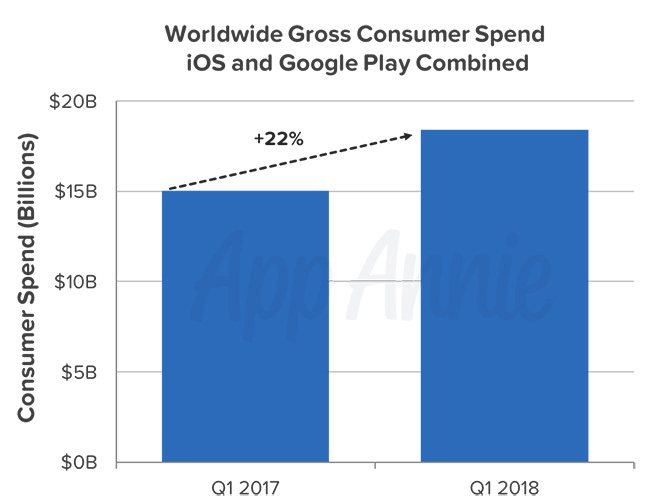 The largest growth among categories for Google Play – both quarter-over-quarter and year-over-year – were music and audio and entertainment apps. For iOS, spending on health and fitness apps had the highest quarter-over-quarter growth.
Apps are becoming far more common on the enterprise side as well. Last year, for instance, Apple and Accenture launched a partnership to develop enterprise apps for the iPhone and iPad.