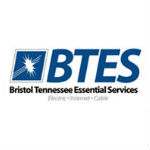 Chattanooga based EPB Fiber was one of the first (if not the first) broadband carriers in the U.S to offer a 1 Gbps FTTP network, well ahead of Google, which is trying to do the same in Kansas City. You can now add Bristol, Tennessee to the 1 Gpbs FTTP-capable club. Both Bristol and EPB are municipal owned broadband networks, and they both highlight the momentum of the municipal broadband movement in the U.S.
Bristol Tennessee Essential Services (BTES) is a municipally owned electric provider with 33K customers that also offers a triple play bundle of broadband, video, and phone. Like their neighbor across the border in Virginia, BVU, they have been offering a fiber based triple play bundle for several years now. They have since upgraded their network to an Alcatel-Lucent GPON platform, giving them the 1 Gbps capability. It's not entirely clear if BTES will actually offer a 1 Gbps service. They currently advertise a 50 Mbps offer for $69.95/month as their fastest broadband tier.
"Bristol now has one of the fastest, totally built out networks in the United States. To give an example of how fast, you can download about two hours of video or upwards of 200 songs in just six seconds," said Dr. Michael Browder, CEO of BTES in a press release. "For our residential customers, that means one person in the household can download a movie, while another is playing an online game, while another is watching an HDTV program – all without slowing down any of the activities. For our business customers, it opens the way for transporting and accessing 'big data', which is critical for economic development of the area."
Their Tennessee municipal cousin, EPB Fiber, does actually offer a 1 Gbps broadband tier, priced at $300/month unbundled. The Bristol, Tennessee/Virginia market is a poster child for the municipal broadband movement, with both BTES and BVU offering fiber based triple play bundles. In fact, Tennessee has several municipals doing similar broadband network activities, including CDE Lightband, Jackson Energy Authority, Morristown Utility Systems, Pulaski Electric System, and Tullahoma Utilities Board. A microcosm of sorts, for the growing municipal broadband movement.