According to leading wireless industry analyst Chetan Sharma, an important milestone for the wireless service provider industry occurred in 4Q 2013. Revenue generated by wireless data services eclipsed the 50% mark of total revenue generated by wireless service providers. By this measure, one could argue that in aggregate, wireless service providers are mobile data companies that also happen to offer voice service.
According to Sharma's data, the wireless industry generated $24.8 billion in wireless data revenue during 4Q13 and $90 billion total for all of 2013. That represents 5% quarter-over-quarter (Q/Q) growth and 20% year-over-year (Y/Y) growth. Sharma predicts that in 2014, the U.S. will be the first country to cross $100 billion in wireless data revenue. To illustrate this rapid growth rate, consider that wireless data generated a total of $1 billion in 2002 and in 2004, it contributed 4% to the total wireless services revenue pot.
We can certainly thank smartphones for a lot of that growth, which according to Sharma's data see 66% penetration among U.S. users. But the real growth in wireless data going forward will not come from smartphones, but from what Sharma calls the mobile 4th wave, which includes cloud based digital services including home security, healthcare, insurance, automotive, enterprise mobility and security. This is the Internet of Things (IoT) effect, which will be driven in large part by wireless data.
Other key findings from Sharma's data include:
Overall ARPU declined by $0.39. Average voice ARPU declined by $1.51 while the average data ARPU grew by $1.13 or 5% Q/Q.
US operators added 4.6M net-adds, a sharp reversal from the first half of 2013. Verizon and T-Mobile led with over 1.6M subs, followed by AT&T and Sprint.
Shared data plans launched by Verizon and AT&T have been quite successful. The attachment rates have increased tremendously over the course of 2013 with more consumers opting for cellular tablets and connected devices. 46% of postpaid accounts at Verizon are now on shared plans. At AT&T, tablets are performing 2-3 times better than smartphones in postpaid net-adds.
Mobile data consumption per capita grew from 690 MB to 1.2 GB
Connected devices (non-phones) accounted for a whopping 89% of the net-adds in 2013.
24% of the patents granted by the USPTO were mobile related
According to Sharma, wireless carriers will have to learn how to earn more revenue from existing subscribers and IoT initiatives, rather than relying on new subscribers for revenue growth.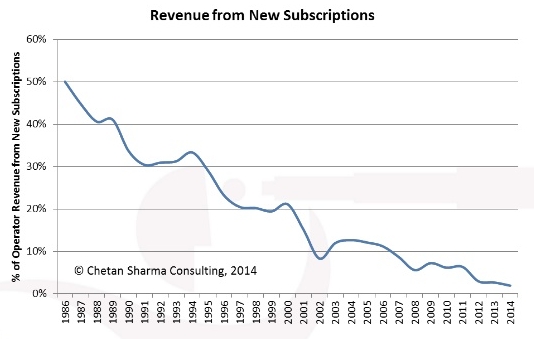 Blame it on saturation, as there are very few new subscribers to gain. And thanks to companies like T-Mobile and their disruptive pricing tactics, taking subscribers from competitors isn't nearly as lucrative because revenue from new subscribers is declining.
Revenue growth will come from cloud based digital services to existing subscribers and M2M/IoT. Not to worry though. Charma calls this the next trillion dollar opportunity.