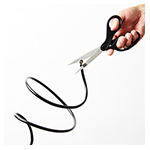 Even the nation's two largest cable companies have stopped worrying about video subscriber losses, observes MoffettNathanson Research in a research note this week. Like nearly all other major video providers, Comcast and Charter have seen video subscriber losses quarter after quarter for several years. But while many other video providers have been de-emphasizing video for some time now, it's a newer phenomenon for Comcast and Charter.
Comcast has seen negative video subscriber growth since the fourth quarter of 2017 and the rate of decline has been accelerating, reaching 3.3% in the fourth quarter of 2019 in comparison with the same quarter a year earlier, according to MoffettNathanson. Charter has seen negative subscriber growth since late 2016 and the company's rate of decline also has been increasing, with fourth-quarter 2019 losses exceeding those of the same quarter of 2018 by 2.8%.
Cable investors are no longer concerned with such losses because cable companies' profitability is dependent, in large part on their broadband business, Craig Moffett and Michael Nathanson observe in the research note.
"The most important development we see in video isn't that cord cutting is being embraced by consumers," said MoffettNathanson. "It's that cord-cutting is being embraced by video distributors."
Charter, Comcast Video Losses
The researchers don't expect to see the cable companies making moves to encourage customers to cut the video cord in the way that telcos have done, however. They note, for example, that Verizon's Mix and Match offer for Fios customers is really an attempt to get customers to drop Verizon's own Fios video for YouTube TV plus broadband.
Cable companies, instead, will simply stop offering discounts or other uneconomical promotions aimed at retaining video customers, the researchers argue.
While some industry observers expected to see declines in traditional video subscribers offset by gains in vMVPD services that offer traditional linear video content delivered over a broadband connection, that hasn't happened to the extent expected, the researchers note. Moffett and Nathanson reiterated their previous observation that only about 40% of people who cut the video cord replace a traditional video subscription with a vMVPD service such as YouTube TV or Hulu Live.
People generally cut the cord because they believe traditional video is too expensive – and as the researchers also have noted, the cost of vMVPD services has been increasing, making them a less attractive alternative.
Some cord-cutters are satisfied with subscription video on demand (SVOD), the researchers note. SVOD includes offerings such as Netflix and Amazon which, like vMVPD offerings are streamed over a broadband connection, but do not attempt to replicate a traditional cable programming lineup.
Perhaps more importantly, SVOD services generally cost less than vMVPD offerings.