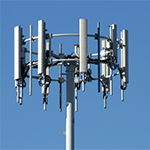 The CBRS spectrum band offers opportunities for the enterprise and for the service provider, says Monica Paolini, president of wireless-focused Senza Fili Consulting. Indeed, Paolini sees enterprises generating service provider CBRS opportunities and vice versa.
"The reason CBRS is so compelling is that you will see different types of users, [who] will use it more efficiently" said Paolini in an interview with us. "CBRS is going to succeed if you have service providers and enterprises using it."
CBRS Service Provider Opportunities
The CBRS band includes a broad swath of spectrum between 3550 and 3700 MHz, a portion of which will be auctioned and a portion of which will be available for unlicensed use. For enterprises, the spectrum will support WiFi-like connectivity but over greater distances. For service providers, the spectrum will support fixed or mobile wireless services.
Paolini expects service providers to focus primarily on outdoor deployments, which might seem surprising, considering how much mobile device usage currently occurs indoors. But that's where the synergies with enterprise users come in.
Wireless communications in the CBRS band will not have the long range that characterized deployments in the lower-frequency bands that service providers relied on heavily for their initial LTE deployments, nor will it penetrate walls as easily.
According to Paolini, mobile operators "would like to get indoor coverage and in some places, they are willing to pay for it, but it's not realistic to expect them to deploy indoors throughout their footprint; . . . it's way too expensive for a mobile operator to put small cells in every building."
Fortunately, Paolini expects to see enterprises using CBRS in their corporate networks to support internal communications, as well as internet of things and other applications.
"CBRS gives the enterprise a way to have a wireless network that will co-exist with Wi-Fi and will give them the ability to manage all their wireless connectivity in-house," she comments. Among the applications she expects to see supported are automation systems, in-vehicle applications, and video calling among employees.
For the enterprise, CBRS range limitations are actually beneficial because those limitations will help minimize interference from other users in unlicensed bands, she notes.
Some enterprises may seek assistance in deploying their private CBRS networks from service providers' professional services units, yielding additional opportunities for the service providers, Paolini notes. And with both enterprises and service providers deploying CBRS, volumes for end user devices will be high, which should yield economies of scale and help minimize costs.
Spectrum Rules
The CBRS band is also expected to support fixed wireless broadband services in rural and some suburban areas – and the FCC encountered considerable controversy between fixed and mobile operators when it set out to establish plans for the band such as license size and duration. While opponents were not able to agree on a solution, the FCC opted for what commissioners considered a compromise. Licenses will be awarded for 10 years on a county-by-county basis.
Paolini sees that solution as a good one, even though some enterprises had hoped for smaller license areas to increase the likelihood that they would be able to afford licenses.
As it stands, licenses areas, in general, are "too big for an enterprise to be interested," she observes. She notes, however, that enterprises will be able to use the unlicensed portion of the band. She also notes that an enterprise that manages many properties might be able to obtain a license that it could use to operate neutral host small cell infrastructure that could be used by multiple service providers. Alternatively, there might be opportunities for enterprises to obtain spectrum in the secondary market.
Paolini also sees substantial opportunities for wireless internet service providers (WISPs) that offer fixed service in the CBRS band, even though it will be more difficult for them to win county-size licenses than it would have been to win licenses for the sub-county-size license areas they wanted to see.
"I don't think they even need a license in most cases," comments Paolini.
She notes that unlicensed users will be able to use licensed spectrum in areas where the license is not in use by the licensee, and she doesn't think mobile operators will use their licensed spectrum in the sort of rural areas that the WISPs target.
She adds, however, that some WISPs may try to get licenses as insurance for their CBRS deployment plans or may seek agreements with license holders to use their spectrum in certain areas.