While there is a strong correlation between labor force participation and having broadband at home, there is a stronger correlation when the home also has a laptop or desktop computer, according to a new broadband and jobs report from the Federal Reserve Bank of Philadelphia.
An "access policy" that provides a broadband-enabled computer to unserved metro populations could add nearly 400,000 prime-age workers to the labor force, according to the bank researchers' analysis.
Broadband and Jobs Report
The broadband and jobs report, titled Broadband Subscription, Computer Access, and Labor Market Attachment Across U.S. Metros, is based on data from the U.S. Census Bureau for U.S. metropolitan statistical areas (MSAs) for 2015 to 2019, the most recent year for which the relevant data was available.
In addition to the key finding about the potential impact of the broadband-enabled computer policy, the report also found that:
Household broadband subscription rates and computer access shared a strong positive correlation with one another, while regional poverty rates had a moderately negative relationship with both broadband subscription rates and computer access.
MSAs with low household broadband subscription and computer access were primarily located in the Southeast and Southwest, while high-connectivity regions were concentrated in the Northeast and on the West Coast.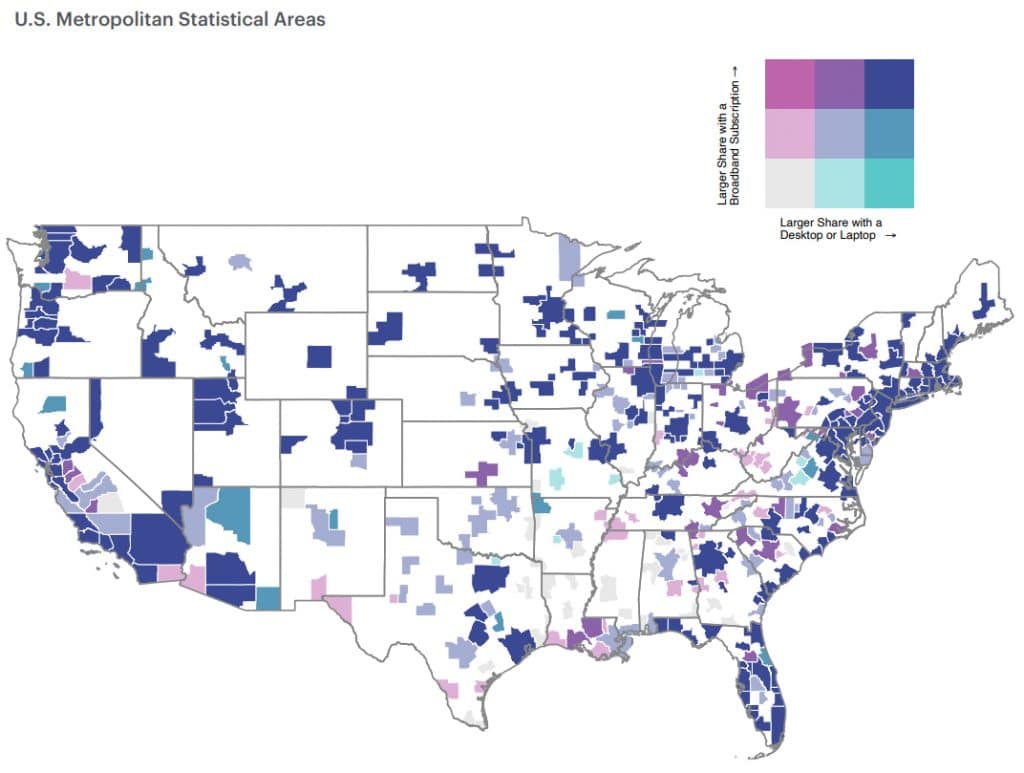 Prime-age workers (age 25-54) with a broadband-enabled computer participate in the labor force at a much higher rate than prime-age workers without access.
The report authors note that the percentage increase in labor force participation that would result from the hypothetical "access policy" would not be high. In sheer numbers, however, 400,000 new workers nationwide would be considerable.

The bank researchers aren't the first to explore the impact of broadband on jobs.
Recent research from consulting firm Deloitte found that a 10-percentage point increase in broadband penetration in 2016 would have resulted in more than 806,000 additional jobs in 2019, or an average annual increase of 269,000 jobs.
According to the new Federal Reserve Bank of Philadelphia report authors, however, theirs is the first report to study the impact of having both broadband and a home computer on the job market.
The limited-time Emergency Broadband Benefit program, established earlier this year as part of broader COVID-19 relief efforts, pays up to $50 monthly ($75 on tribal lands) toward the cost of broadband connectivity and up to $100 toward the cost of a home computer for low-income households or households that have been economically impacted by the pandemic.
It would be interesting to see the bank or other researchers explore the impact that program has on labor force participation.