Frontier cited a range of fiber gains on its fourth quarter earnings call today, including 17% customer growth over the previous year and 31% growth in fiber passings over the previous year.
"We're actually accelerating our build this year and I think we're the only at-scale fiber builder to be saying that as we go into the year," said Frontier CEO Nick Jeffery on today's earnings call.
The company will still need to pick up its fiber build pace even a bit more, though, to achieve the deployment goal it set for completion by 2025.
The company also said it would consider deployments outside its local service footprint but that the 10-million location goal set in 2021 would remain its primary focus.
Fiber Gains
Frontier's fiber revenue growth was up 7% year-over-year and the company achieved EBITDA growth of 2%, reversing a negative trend from the same period a year earlier.
After emerging from bankruptcy in 2021, Frontier set a goal in August of that year of having fiber available to 10 million locations by 2025 and already has service available to more than half that number. It's important to note, though, that the company already had 3.4 million fiber locations when it set the goal, which meant that the number of locations to which the company had to build was actually 6.6 million.
That would require an average build pace over the 17 quarters between when the goal was announced and when it is to be completed of 388,000 per quarter or 1.5 million locations per year.
The company's previously cited build pace goal for 2022 was between 1.1 million and 1.2 million locations and it did indeed reach the 1.2 million-location goal for the year—an average of 300,000 locations per quarter.
In the fourth quarter, the company built fiber to 381,000 locations, up from 211,000 in the first quarter and nearly meeting the average quarterly build pace required to hit its 2025 goal.
The company must build faster than that, though, to make up for the slower pace at which it initially started.
The company's target for 2023 is to build to 1.3 million locations, still shy of the average annual required build rate of 1.5 million. But certainly, the trend is moving in the right direction, as the company indicated on slides shared on today's earnings call.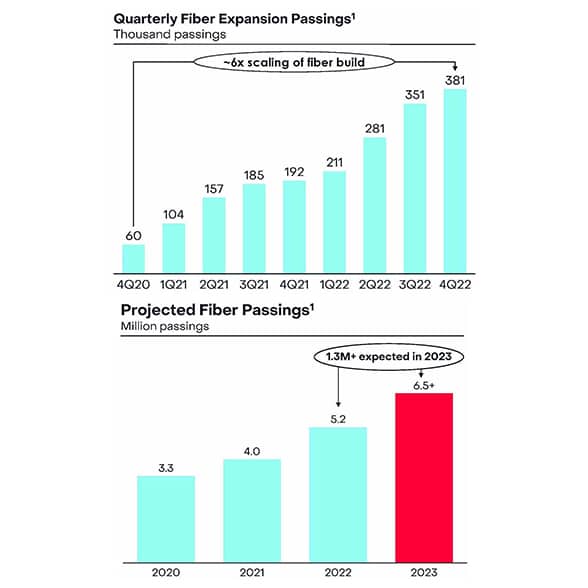 It's worth noting, though, that if the company meets its target of having fiber available to 6.5 million homes by year-end 2023, it will have to build to an average of 1.75 million locations for 2024 and for 2025 – an average of 437,500 per quarter.
Asked about build pace, Jeffery said, "The way to think about our build ambition of 1.3 million homes passed this year is as a minimum build. We think we've got plenty of operational gas in the tank to further accelerate if and when the conditions are ready for that."
Gigabit Gains
Another interesting tidbit from today's call: More than 50% of new fiber customers choose service at gigabit speeds or higher—that's a significant increase in just a few months. Back in December, that number was 45%.