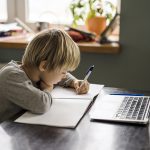 Nearly 19 million students will be eligible for discounts on certain Verizon services to support distance learning during the COVID pandemic. Verizon, the Texas Education Agency (TEA) and the state's Operation Connectivity are partnering to provide discounted service plans for unlimited LTE access, mobile device management and security for the students.
The agreement covers 18.9 million K-12 students in Texas and 15 surrounding states, including Arizona, Colorado, Iowa, Illinois, Indiana, Kansas, Michigan, Minnesota, Missouri, North Dakota, Nebraska, New Mexico, Ohio, South Dakota and Wisconsin.
COVID Verizon distance learning enablement partnerships now exist in 38 states and the District of Columbia. Participating organizations cited in a press release are the Los Angeles Unified, the California State Department of Education, the Georgia Department of Education, the South Carolina Office of Regulatory Staff, the Massachusetts Department of Elementary and Secondary Education and the Oklahoma State Department of Education.
"Since the beginning of the COVID-19 pandemic, we have partnered with independent school districts and state departments of education to help bridge the digital divide, and deliver connectivity, devices and other solutions to students nationwide," Andrés Irlando, a senior vice president and president of Public Sector and Verizon Connect, said in a press release. about the COVID Verizon distance learning discounts. "Verizon is committed to ensuring the 18.9 million students across Texas and the 15 neighboring states have the mission-critical connectivity and technologies they need to keep students connected and learning this fall."
The COVID-19 pandemic has had a huge impact on how subscribers work and are entertained and on how students are educated. Broadband is key to all these activities. While the spikes of the early days of the crisis have subsided, longer-term issues remain. This is particularly true in education, which enjoyed a brief respite during the summer break. Communities now are coming to grips with the start of the school year.
There are many other initiatives like this Verizon distance learning example aimed at helping students during the pandemic, including two examples from smaller carriers announced late last month. In one, EPB of Chattanooga will provide network infrastructure for HCS EdConnect. The program provides free student broadband to about 28,500 economically challenged students in and around the city. The other announcement was by Atlantic Broadband, which said it would participate in a program to support remote learning in Connecticut that makes use of CARES Act funding.