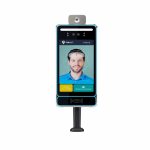 In parts of the U.S., guidelines designed to prevent the spread of the COVID-19 virus recommend employees and/or customers to be tested for an elevated body temperature, a possible sign of COVID infection. T-Mobile has found opportunity amid those guidelines, announcing an agreement to sell and provide connectivity for elevated body temperature detection technology from PIMMAP.
In addition, T-Mobile will sell and provide connectivity for technology from Guardhat designed to alert industrial workers when someone comes within six feet of them, thereby helping to enforce COVID-19 social distancing guidelines recommending that people stay six feet apart from one another.
Elevated Body Temperature Detection
The T-Mobile elevated body temperature detection offering from PIMMAP uses thermal imaging built into a high-definition tablet that checks for flu-like symptoms when people stand in front of it for one second. In addition to elevated temperature, indicating a possible fever, the technology also tests for signs of fatigue and watery eyes, according to a video posted on a T-Mobile web page.
The technology apparently came to T-Mobile with the Sprint acquisition, as the web page still has Sprint branding on it.
Businesses pay a one-time hardware fee of $3429 for the offering plus a monthly fee ranging from $49.95 for 1,000 scans to $99.95 for 5,000 scans.
The T-Mobile temperature detection offering also includes facial recognition technology.
Don't Get Too Close
The T-Mobile offering with Guardhat is more narrowly targeted. It's based on technology built into hard hats and wearables that works in combination with sensors to alert workers to potential dangers. Traditionally these would have included hazardous and restricted areas, but the technology apparently has been extended to alert workers when another person comes closer than six feet.
T-Mobile did not provide pricing for the Guardhat offering.
The T-Mobile temperature detection and Guardhat offerings are examples of the internet of things (IoT) technology – an area that is projected to see strong growth moving forward. And while cellular connectivity isn't the only option for connecting IoT devices, it is expected to be a popular one.
As today's T-Mobile news illustrates, service providers also may find a new revenue source in selling not only IoT connectivity but also the connected IoT devices.